My hero: Abby Wambach. Abby is the first person I think of when someone says hero. She was born to be an athlete, a soccer player and a wonderful role model to all who look up to her! Abby's attitude is to never give up, and that to me is what makes her such a hero. This attitude was shining like a star in the 2011 World Cup when in the 122nd minute Abby scored a header to tie up the game and go on to win. She showed millions of people that day what it truly is to be a hero: Never give up!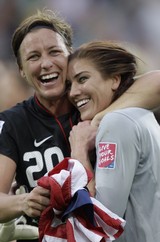 Mary Abigail Wambach "Abby" was born on June 2, 1980, in Rochester, New York. She is the youngest of seven children and has two very supportive parents. At the age of four, Abby started to play soccer, and after three short games she had scored an extraordinary 27 goals, so she was moved to the "more competitive" boys' league. She fit right in with all the boys, since she was raised roughhousing with four older brothers. Later, between the ages of nine and thirteen she was moved from the girls' to the boys' league once again to be more competitive.
Abby played basketball and soccer in high school. She had a tough decision to make when she was in high school. She needed to decide if she was going to focus on soccer or basketball. He heart told her soccer was indeed the right decision.
Abby went to the University of Florida in Gainesville on a soccer scholarship. In college Abby stopped thinking soccer was fun; it was getting very demanding and started to feel like a job. But thank goodness she rediscovered her great talent and love for soccer during her senior year, when she led her team to the NCAA final four.
In 2001, Abby began to play for the United States Women's National Team. In 2002, she played in seven games with five goals and four assists. In 2003, Abby played in WPS league on the Washington Freedom with Mia Hamm. Mia and Abby became lethal when they were playing together. That year they won the league title, and Mia and Abby wound up scoring 66 goals together. That year the National Team placed third in the World Cup, and Abby started all five games the team played.
One of Abby's best seasons was in 2004 when the national team won the gold medal in the Olympics. She started all five games and scored a phenomenal four goals. That season she played 30 games and scored 31 goals. Her 75 points that year marks the second highest point total in U.S. history.
In 2007, the Women's National Team went to the World Cup again and placed third once again. During the opening game against North Korea, Abby collided with another player and cracked her head open. But that did not stop her, she ran right back into the game after receiving 11 stitches. Before the World Cup started Abby had already tallied 11 goals in the regular season.
Abby had a difficult year in 2008. In the last tune-up game before the Olympics, Abby collided with a Brazilian player and broke both her tibia and fibula, knocking her out of the Olympics that year. The National Team did go on to win the gold with Abby cheering on the sidelines!
Abby had a very exciting year in 2009. She scored her 100th international goal and became the fifth player in history to score 100 goals. What a year Abby had in 2011! It was time for the World Cup in Germany. On July 10, 2011, the U.S.A was playing Brazil in extra time, and had to score to stay in the cup. With 30 seconds in the game and Megan Rapinoe crossed the ball and Abby headed the ball into the back of the net and she tied it all up! The U.S.A won the game in penalty kicks. They made it into the final against Japan, and Abby indeed did score, but they lost in penalty kicks this time, giving them a silver medal. On Wednesday October 19, Abby was selected as the Sportswoman of the Year.
Many people ask why is Abby my hero. This is what I tell them. She is my hero because she inspires me never to give up and to always try my best. And that to me is what a hero does.
As soon as I heard I was getting a chance to do a hero project, I knew right away I wanted Abby Wambach to be my hero. I have always loved her, and she is such a role model to me. She is what I want to be when I get older, not just the outstanding athletic side, but her goofy and playful attitude she uses to keep her calm and happy in the locker room.
Who inspires Abby and what keeps her going, you might ask. This is what she tells a reporter at the Chicago Marathon: "Who inspires the pros? It's people like you who work so hard every single day for other people to prove there is a greater good." In 2001, Abby caught the eye of U21 National Team coach Jerry Smith. He told her that with a lot of hard work, she could earn a rightful spot on the senior national team. Abby began to train with a new, tougher, greater goal, and that was to become a part of this team. That is what she did, making her debut at the Nike U.S Women's Cup that same year.
Abby works with an international organization called Right to Play. In 2005 she went to Africa to meet some of the children in the organization and works very hard to raise money for them.
Abby is truly an inspiration to many people just like me. She is loyal, a hard worker and does her job for the "greater good." Abby makes me want to reach for the stars and never give up! Whenever I see her, that is who I want to become, a determined, hard worker who is looked on by so many. She is someone who is always contributing to the team and is doing her part to the best of her abilities.
Page created on 10/27/2011 1:29:42 PM
Last edited 10/27/2011 1:29:42 PM