Andre Agassi
by
Stefan from Toronto
The hero I have chosen is Andre Agassi. Andre Agassi is a retired professional tennis player, and is a hero to me because of his tennis accomplishments, and hearing about the struggles in his life from his autobiography, "Open".
Andre Agassi is a former world number one tennis player, and is one of the greatest tennis players of all time. Andre was born on April 29, 1970 in Las Vegas to Mike and Betty Agassi. Andre's tennis career began when he was very young and from that point on, his father made tennis Andre's main priority. Andre's father was a very competitive man who was only focused on Andre becoming number one in the world, and did not care about what Andre wanted in life. In Andre's teenage years he began to rebel against his father and started to tell him about what he wanted in life and how he wanted his tennis career to work. When Andre was 16 he turned professional and began to travel the world playing in tournaments against other tennis stars.
Andre Agassi concluded his tennis career at the 2006 U.S. Open in New York City. After Andre's loss to Benjamin Becker, he received a huge ovation from the audience as they congratulated Andre for such a great tennis career. In Andre's career he won 8 grand slams, and a total of 60 ATP professional tournaments. Andre currently sits fourth in all-time earnings, and went from having a very miserable childhood to becoming a very successful man who not only succeeded on the tennis court but in his philanthropy and family life.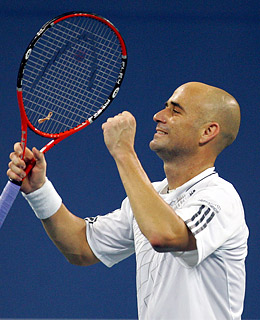 Currently, Andre plays in charity tournaments around the world and resides in Las Vegas. Andre Agassi is a hero to me because of how successful he has been in the tennis world, and how he rebelled against his father and tennis coaches. His tennis success, and rebellion makes him a hero because of how his hard work paid off and how his autobiography and story is inspiring to others who are under pressure from their parents in sports. He has impacted my life because his novel encouraged me to read more and more about everything he went through in his life. Also, he's encouraged me because I've learned a lot about what the life of a professional athlete is like, and how much you have to sacrifice.
In conclusion, Andre Agassi is a great role model through his drive, strong personality, and great talent. I have learned a lot about him through his autobiography and I know that he fits the description of what a hero is.
Page created on 12/1/2010 12:00:00 AM
Last edited 12/1/2010 12:00:00 AM
The beliefs, viewpoints and opinions expressed in this hero submission on the website are those of the author and do not necessarily reflect the beliefs, viewpoints and opinions of The MY HERO Project and its staff.