Adam David Vernon Foote
by
Curry from Montana
"We needed to get a win and get some confidence. We had a long week of practice going over some things. We did a lot of little things better than we did on the road trip and it really helped."
In 1991 Adam Foote went to the NHL on the Nordiques and kept playing there until 1995 when he was traded to the Colorado Avalanche. He stayed in Colorado until 2004, but on the way he played in the Olympics for Canada. He was then traded to the Blue Jackets where he only stayed for three years then it seemed like he couldn't make up his mind because he moved back to the Avalanche. Up to this day he has scored 73 goals since he started playing the game of hockey in the NHL. Adam Foote won his first two Stanley Cups with the Avalanche, killing the Florida Panthers in the Finals. Five years later, Adam Foote helped the Avalanche to a third Stanley Cup championship in 2001, destroying the New Jersey Devils. On June 30, 2008, Adam Foote agreed to re-sign with the Avalanche with a two-year $6 million deal at $3 million per season.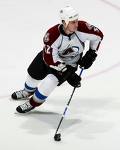 Born on July 10, 1971 in Ontario, Canada and he is six foot, two inches weighs 226 pounds. He plays defense, shoots right handed, plays for the Colorado Avalanche, and was drafted with the 22nd overall pick. Internationally, Adam Foote won a gold medal in the 2002 Winter Olympics and a World Cup championship in 2004 with Team Canada.
Adam Foote is one of the toughest player that plays hockey today because he won't back down from a fight and he never gets hurt unless it's the worst pain ever. He is one of the nicest people because he can help a teammate out when needed and can raise their level of confidence greatly. Adam Foote is trustworthy because when he says that he is going to do something, he will do it and won't let you down.
Adam Foote is a team captain of the Colorado Avalanche and these are some reasons why his teammates picked him to be the captain of the team: he's trustworthy, honest, generous, tough, a leader, a good player, and he was the best man to take the team and win another NHL Stanley Cup. Adam Foote can handle the puck very well, he works hard every day he has practice or games and is one of the biggest players today.
Adam Foote is a leader and helps everyone out except for the other teams and never lets his teammates get down on themselves and he says try again and again. He is not afraid to stand out and speak out. Adam Foote is tough, nice, and trust-worthy and that's why he is my hero and it's what makes him one of the best players today.
Page created on 3/16/2010 12:00:00 AM
Last edited 3/16/2010 12:00:00 AM
The beliefs, viewpoints and opinions expressed in this hero submission on the website are those of the author and do not necessarily reflect the beliefs, viewpoints and opinions of The MY HERO Project and its staff.