Aimee Mullins
by
Briana from Huntington
Aimee was born in Pennsylvania. When Aimee was born she was born with a disease called fibular hemimelia. It's when your legs are missing your fibular bone. When she was a year old she had to have both of her legs amputated. Aimee is one of the best athletes for track and field in the world.
She started her career for track and field in High School. One day she was walking down the hall and saw a sign announcing try-outs for people with disabilities for track and field. When she went to try out she realized that she was the only one wearing wooden legs and that everybody else had metal, shock absorbent legs that she didn't even know existed and almost every single person there had a least 1 normal leg. Aimee made the team and won her first race. Not only that, but she set a national record. Aimee's wooden legs ended up breaking in one of her races and because of that she got her first pair of sprinting legs.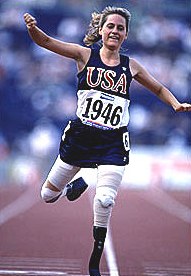 After High School, Aimee went to Georgetown University. She continued to do track and field. In 1996 she went to the Paralympics Games in Atlanta, Georgia. At the games her greatest fear came true. Her leg started to slip off causing her to lose and come in last place. A month later she had new legs and went back to the Paralympics Games. She set a record for 100 meter dash and long jump. In 1997 she was named USA Track and Field Disabled Athlete of the year. Aimee represents The Women's Sports Foundation.
The reason why Aimee is a hero to me is because she tries to help kids with disabilities that want to live their dreams by being involved in sports. She attends almost all fundraisers that involve kids that want to be involved in sports. I learned about Aimee from MyHero.com, Google, on the news, and then downloaded my pictures from Google. To me Aimee is a wonderful athlete and my #1 hero.
Page created on 8/21/2009 12:00:00 AM
Last edited 8/21/2009 12:00:00 AM
The beliefs, viewpoints and opinions expressed in this hero submission on the website are those of the author and do not necessarily reflect the beliefs, viewpoints and opinions of The MY HERO Project and its staff.