Albert Pujols
by
Noah from Roseville
Albert Pujols is a major league Baseball player who happens to be a very successful athlete and also has his own non profit agency to help support families and people with down syndrome and to honor God. Albert Pujols is a major league baseball player who played previously with the St. Louis Cardinals but is currently playing for the Los Angeles Angels. He is the only player in MLB history to hit .300 with 30 or more home runs and 100 or more RBI (runs batted in) in his first ten seasons. He is also the first player to hit 500 doubles in his first 12 seasons. He was first brought to the MLB by being drafted by the St. Louis Cardinals in 1999 in the MLB draft.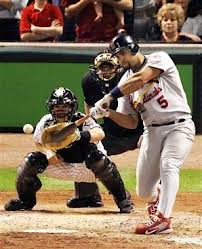 Albert Pujols is a very successful baseball player who has earned many achievements throughout his career, such as in 2003 when he won the batting title after hitting .359, he reached his first 40 home runs in 2004, won his first MVP award in 2005, won his first ever world series in 2006 against the Detroit Tigers after 5 games,in 2008 he won his second NL MVP,he won the batting title again in 2009 while leading the league in home runs for the first time,he won his second world series in 2011 tying the series single game records for home runs. After that season he became a free agent but soon after signed a 10 year contract with the Los Angeles Angels.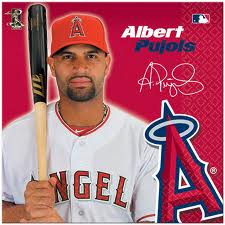 Some facts about Albert Pujols outside of baseball are he was married to a woman named Diedre on January 1st 2000, they have five children named; Isabella, Albert Jr, Sophia, Ezra, and Esther Grace. In 2005 Pujols and his wife started the "Pujols Foundation" which was a non profit agency to help better families and people with down syndrome because Isabella was born with this condition. In 2007 he became a registered American citizen, scoring a perfect 100 on his test. He and his wife are practicing Christans. He became a Christian on November 13th 1998.
My definition of a hero is someone who is successful and helps people without anything in return. Albert started a non profit foundation to help families in need, to help people with down syndrome, and especially to honor God. Ever since he became a Christian he has always honored Jesus and God. One of Albert's quotes that was written on his foundation's page was "My life's goal is to bring glory to Jesus. My life is not mostly dedicated to the lord, it is 100% committed to Jesus and his will". I think this fits my definition of a hero because he is committed to his religion and to helping others that are less fortunate or that have mental disabilities.
Albert Pujols is an amazing major league baseball player and is very successful at his sport, but he is dedicated to his religion and helping others. If there is anything that Albert Pujols has taught me, it's that even if you are more successful than someone else or more fortunate than someone else that doesn't mean that you can't lend a hand to someone in need.
Page created on 11/6/2012 12:00:00 AM
Last edited 11/6/2012 12:00:00 AM
The beliefs, viewpoints and opinions expressed in this hero submission on the website are those of the author and do not necessarily reflect the beliefs, viewpoints and opinions of The MY HERO Project and its staff.
Bibliography
Pujols, Albert . "Pujols Family Foundation." [Online] Available http://www.pujolsfamilyfoundation.org/.
anyone, anyone. Albert Pujols.