Albert Pujols
by
Tyler from Riley
Would you donate thousands of dollars every year to help people with Down syndrome? The father of four, ten-year veteran, St. Louis Cardinals first baseman from the Dominican Republic, Albert Pujols does. He has influenced my life because he is a key player for my favorite baseball team: the St. Louis Cardinals. He lives a good, Christian life and he works with and encourages people with Down syndrome.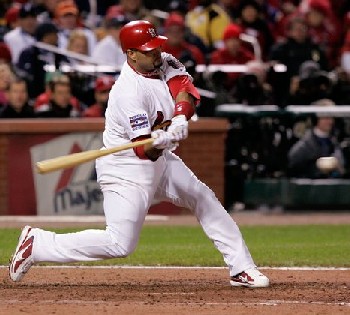 Growing up in Santo Domingo, Dominican Republic and immigrating to the U.S. in 1996, Albert Pujols has always been around baseball. He played in high school and in college before making it to the professional level. In high school, he earned all-state honors twice. After graduating, he went to Maple Wood Community College for one baseball season until getting signed to a minor league contract by the St. Louis Cardinals in 1999. He made his Major League debut in 2001. Since then, he has won three MVP's, has been an all star every year, and has a World Series ring from 2006. All of these accomplishments were possible because he worked his hardest to be the best he could be.
In spite of all his success, he does not take all the glory and fame for himself. He has let the whole world know that he is a believer in Christ and that it is only because of Jesus that he has anything to call his own. He is married with four children. (One is his step-child.) He met his wife, Deidre, at a Kansas city night club. He immediately fell for her and they started dating. She had a daughter from a previous relationship, Isabella, who was born with Down syndrome. Albert began using all the money he made to support Deidre and Isabella. They married on January, 1, 2000. They are both active Christians who are very open with their faith. They have three other children; Albert Jr., Sophia, and Ezra. They reside in Kansas City, Missouri.
The Pujols family is very involved in numerous charities. Albert sends money to his home country of the Dominican Republic. He is also very active in charities for Down syndrome. In 2005, Albert and Deidre launched the Pujols Family Foundation. It is a non-profit organization that supports awareness for Down syndrome, sends aid to Dominican Republic, and supports families of those with life threatening illnesses. A clinic in Chesterfield, Missouri bears Pujols' name. It is The Albert Pujols Wellness Center for Adults with Down syndrome. He has taken many trips to the Dominican Republic with a team of doctors and dentists. Every year, the Pujols Family Foundation hosts a golf tournament to raise money to send doctors to the Dominican Republic.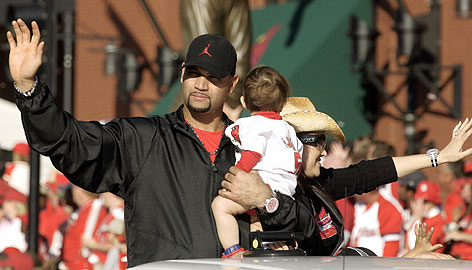 It's amazing isn't it? All of the great things that happen because of one person's generosity are just amazing. A lot of people would say that looking up to a pro athlete is a bad idea; because so many athletes are greedy with the money they make. My hero is not like that. Albert Pujols is a selfless individual who is deserving of admiration.
Page created on 9/30/2011 12:00:00 AM
Last edited 9/30/2011 12:00:00 AM
The beliefs, viewpoints and opinions expressed in this hero submission on the website are those of the author and do not necessarily reflect the beliefs, viewpoints and opinions of The MY HERO Project and its staff.