Alex Rodriguez
by
Shaq from Williamsville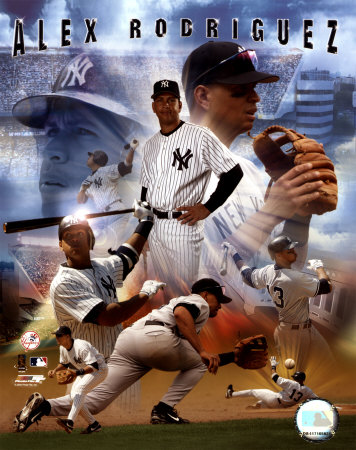 A-Rod is my hero because he always takes time to talk to kids at the Miami boys and girls athletic club. He donates his own money to charities. A-Rod's athletic ability inspires kids to play baseball. A-Rod had lots of things during his early life. A-Rod was born on July 27 1975 in NYC; NY A-rod speaks English and Spanish. His mom and dad are from the Dominican Republic. He and his family moved to the Dominican Republic when he was four. His mom and dad divorced. When A-Rod was little he always wanted to be on the NY Yankees. A-Rod's favorite player was Cal Ripken Jr. He was on the Baltimore Orioles. His other favorite players were Dale Murphy, and Keith Hernandez. Cal Ripken and his dad inspired A-Rod to play baseball. He and his dad would always practice baseball together. A-Rod played football when he was in high school. His favorite team was the Mets. A-Rod put a poster of Cal Ripken Jr. in his room. A-Rod played football as a QB in high school. On February 9th A-rod admitted doing drugs in 2001-2003.
A-Rod had some problems in his baseball and early life career. When A-Rod was little his mom and dad divorced. A-Rod got criticized by the Blue Jays in 2004 because they said he said mine while he was running the bases to distract the 3rd basemen to not make the catch but A-Rod said he had said hah. A-Rod worked two jobs he would also always practice baseball all the time in his backyard with his dad so he can get better.
A-Rod has many important contributions. A-Rod donated 3.9 million dollars to University of Miami resident gift for baseball stadium renovations, and scholarships. He also helped transform Manhattans 40/40 club into the hottest club on earth with rapper Jay-Z. He also helped unload trucks of computers with kids and he said every RBI he makes in the season that he'll give a computer to every kid that helped him unload those trucks. A-Rod entertains his fans all the time by hitting home runs, and RBIS, and hitting singles, doubles and even triples. A-Rod is always doing something on each play on the field to make his fans love him. A-Rod always has fans wanting him to sign their baseball or something. A-Rod and his wife Cynthia donated 200,000 dollars to a children's mental health center in Washington heights, the New York City neighborhood where a-rod was born.
A-Rod made a lot of awards. In 2005 A-Rod made his 400th home run of his whole MLB career. He also got 57 homers in 1996 then he won the AL batting title. A-Rod is a 2 time al Hank Aaron award winner and a 5 time Al home run award winner. He won the golden glove twice. He also got the most home runs by a NY born player. He got most extra base hits in 1996 with the Seattle Mariners. A-Rod batted .300 with 142 runs and RBIs. In 2001 he was named one of the most beautiful persons in the world. In 2003 he hit his 300th homer in his baseball career and then on June 8th 2005 he hit his 400th homer in a game against the Milwaukee Brewers. A-Rod hit a ground slam. It was his 34th of the season.
A-Rod has a lot of character traits. A-rod is really talented. He played football in high school as a QB. A-Rod is really caring. He would go to boys and girls Miami athletic club. There he would talk to little kids and inspire kids to play and tell him about themselves. He donates money to charities, renovations and scholarships. A-Rod was determined, and winning the World Series was his quest ever since he was a little kid. This goal has driven him to success in the major leagues. A-Rod said that he is also committed to being a good husband and father and a positive role model for all his fans. He said, "I honor those people who have supported me throughout my life."
As you can see, A-Rod is a caring man who helps us a lot and who loves his fans and his family.
Page created on 1/26/2010 12:00:00 AM
Last edited 1/26/2010 12:00:00 AM
The beliefs, viewpoints and opinions expressed in this hero submission on the website are those of the author and do not necessarily reflect the beliefs, viewpoints and opinions of The MY HERO Project and its staff.