Adam Vinatieri
by
Kory from Billings, Montana
" Mr. Clutch"
There were only four seconds left in Superbowl 36, year 2002. Adam Vinatieri stepped up to attempt the game-winning field goal. The pressure of kicking any field goal is very mentally taxing, but in the NFL, to kick a field goal to win the superbowl is mind boggling. This man has been in many situations like this before; that's why his nickname is Mr. Clutch. Well, he did kick the game winning field goal to win the Superbowl and he also kicked the game-winning Superbowl kick in 2004. He then became the first NFL kicker to ever kick two game-winning field goals in the Super Bowl. This is why my hero is Adam Vinitaeri.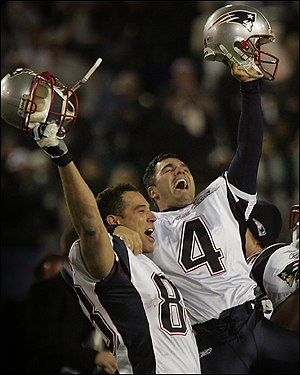 He was born December 28, 1972 in Yankton, South Dakota. He is a very strong kicker at 202 pounds and a height of 6 feet. While this kicker was in high school in South Dakota, my father got to announce one of his games against a Billings' team. I don't no what the score was, though. He has always been a great kicker through high school and college. Adam has taken his skills to the NFL and now holds 8 records. He will most likely be in the hall of fame when he leaves the NFL.
I have always wanted to be a kicker, after watching Adam Vinatieri win his first Superbowl in 2002. This successful NFL placekicker has been in five Superbowls and won four of them. He is considered to be one of the most accurate kickers ever. He has always been one of my favorite players. I was able to go to one of his games and watch him perform his famous clutch kick to beat the Denver Broncos. We also had field passes to this game, so after the game we were allowed into the locker room. I got autographs from Peyton Manning, Marvin Harrison, John Lynch, Tony Dungge, and most importantly, Adam Vinitaeri. Also while he was signing my football, his suitcase tipped over on me. I should have sued him, or at least made him teach me some skills.
This person has really influenced me to kick field goals and I have already started. I will be kicking for West next year and I can hardly wait for it. After meeting Adam Vinitaeri, seeing what a great guy he is, and watching him win games over and over, he just really stands out to me. I would love to be as good a kicker as he is when I get older. Now I will be practicing and kicking for three years and hopefully will take kicking to the next level.
I really look up to him and I just hope I can be at his level one day. I admire the fact that someone can kick game-winning field goals in the NFL, love what he does, and make so much money. Also I like that he is being the best he can be at his level. It's really cool to know that he isn't just a stuck-up, cocky person. He still works his butt off, even though he knows he may be the best. That is what I think a hero is: someone who has done something great and knows he did, but is proud not prideful. That is a hero.
Page created on 11/26/2008 12:00:00 AM
Last edited 11/26/2008 12:00:00 AM
The beliefs, viewpoints and opinions expressed in this hero submission on the website are those of the author and do not necessarily reflect the beliefs, viewpoints and opinions of The MY HERO Project and its staff.