Aaliyah Dana Haughton
by
Zakeenah from Freshman Seminar
Aaliyah is talented, beautiful, and modest. She was a great singer and wonderful actress. She showed a lot a lot of courage when she did some of her videos and when she went through some of trials as a singer. She also showed perseverance and respect with whatever she did.
My hero is the famous singer and actress Aaliyah Dana Haughton born January 16, 1979 in Brooklyn, New York but raised in Detroit. Aaliyah was living in Detroit with her parents and her brother Rashad. When she was 9 she appeared on Star Search, where she was recognized for her talent. Aaliyah then came to be a hit singer and actress. She had plenty of respect by all for her outstanding videos and her unique style. She worked with some of the most talented people like Eddie Murphy and Joel Silver. She won Grammy awards for her music and movies. She was recognized for her self-named album, "Aaliyah," which debuted on the Billboard charts as number 2.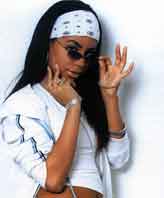 Aaliyah lived from January 16, 1979 until August 25, 2001. She will be mostly remembered by her family but she will also be remembered by her many fans. Her death was unexpected and tragic. She was killed in a plane crash coming from the shooting of her video for the song "Rock the Boat" in Abaco Islands, in the Bahamas. The plane crashed 200 miles away from the runway, instantly killing Aaliyah and others. She made a difference in the lives of all people, old or young. She will still have an impact on the music industry and the people from generation to generation. Her short but sucessful life will be remembered always.
Aaliyah was a hero within. She didn't have to do anything to heroic but just her living was heroic enough. Her life has inspired men and women all over the world. She is a great role model. She teaches you to go for your dreams no matter how many people doubt you. Like with her movie "Romeo Must Die," she won Joel Silver over with her determination and hard work. She won the part and made the movie a hit.
Aaliyah had a short but brilliant life which will inspire not only the African American race but all races because she went against everybody to be herself in an industry where everyone is wanting to impress oythers and not be themselves. With her talent, beauty, and determination she will be an inspiration to all. Her music has lived long after she died and will continue to live.
Page created on 11/9/2006 12:00:00 AM
Last edited 11/9/2006 12:00:00 AM
The beliefs, viewpoints and opinions expressed in this hero submission on the website are those of the author and do not necessarily reflect the beliefs, viewpoints and opinions of The MY HERO Project and its staff.