Aaliyah D. Haughton
by
Courtney from Lawndale
To me a hero is someone that is helpful and warmhearted. My hero is Aaliyah Dana Haughton, she was born on January 16,1979 in Brooklyn, New York. At the age of five Aaliyah's family transported from Brooklyn and settled in Detroit, Michigan, here Aaliyah spent most of her young teenage years. Aaliyah did a lot of singing, thanks to her parents, that introduced the young lad to many different songs. Aaliyah didn't realize her full potential until she turned six years old. She auditioned for an elementary school play of Annie. Even though she played a small role as a young orphan. After Aaliyah did this event it sparked her interest in becoming a singer and set her on her rode to stardom.
After Aaliyah was involved in singing she was going down a tough road, like every other artists starting out had to pay their dues. She started auditioning and performing all over Detroit hoping that someone would sign her and give her her first big brake. At age ten Aaliyah got her big break, when she hit the famous Star Search stage performing her very own Chaka Khan's My Funny Valentine. Even though Aaliyah didn't win, she got her opportunity to experience how it feels to be on a stage in front of a lot of people and judges. At age 11 Aaliyah got an opportunity to sing with Gladys Knight's troupe on a Las Vegas stage that will be an experience Aaliyah will never forget.
When Aaliyah was introduced to producer/singer R. Kelly it marked a major turning point in her career. From there on R. Kelly helped Miss Haughton make an impressive debut album called Age Ain't Nothing But a Number. An album that would turn Aaliyahs whole life around. The album Age Ain't Nothin But a Number had two gold singles and a platinum album. After that rumors were spreading around about Aaliyah and R. Kelly having a relationship and being married. Aaliyah denied it many times, and people didn't believe her and they kept on saying that they had a strong relationship. Aaliyah got fed up with this rumor so she told people that she was never married to R.Kelly and she is not pregnant and she's never been pregnant. After that nobody was spreading rumors around about her and R.Kelly.
Through Aaliyahs life she has helped a lot of people and they have helped her get through the music business, and make her album. Some people that have helped her were, Timbaland, Missy Elliot, Kay-Gee, and Jurmaine Dupri showed Aaliyah's growth and maturity this time around. After all of this Aaliyah came out with another album called One In a Million, it went double platinum. On August 2001 a very sad tragedy had happened to the young singer. Aaliyah was on her way to Africa, she was flying over a rain forest and her pilot crashed her plane into the forest. It was a very sad tragedy; her family was broken down in tears and cried for a while. When people were told that the young singer had passed away they were shocked because she was so young and had a lot to do and accomplish in her life.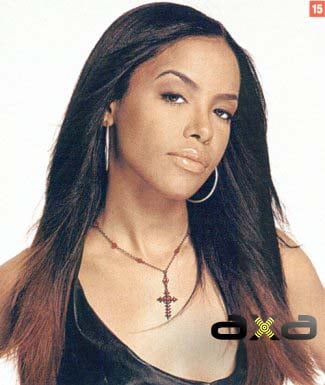 Aaliyah Haughton is important to me because she was like a role model to me; I bought all of her CD's and loved all of her songs. Hearing that she died in that terrible accident just made me break down in tears. I had first found out that she passed away when my god mom told me and I was like the young singer Aaliyah, and she said yeah. I was very hurt and mad at the pilot that was driving the plane because on the news they said that he was drunk from the night before. All night I was thinking about her and singing her songs and I was saying in my head that when I grow up, I want to be just like Aaliyah D.Haughton.
Page created on 8/27/2006 12:00:00 AM
Last edited 8/27/2006 12:00:00 AM
The beliefs, viewpoints and opinions expressed in this hero submission on the website are those of the author and do not necessarily reflect the beliefs, viewpoints and opinions of The MY HERO Project and its staff.