Ask brilliant young inventor Ameen Abdulrasool what his favorite gadget is and his voice takes on a reverent tone. "I love this phone," the winner of the International Science and Engineering Fair says into his cellular. And after talking to him for a while, you can tell he means it. You see, talking, listening, asking questions and exchanging ideas; these are the things that motivate Ameen. Communication is the tool he uses to his greatest advantage.
So when Ameen entered high school and wanted to find just the right project for the science fair, he started by doing what he does best. He spoke with research professors and science fair champions, he quizzed teachers and fellow students. He asked lots of questions and heard lots of answers, and "All I came up with was stress and the only piece of useful advice was 'choose something you love.'" This advice would prove to be critical as it turned Ameen's focus to something very near and dear to him… his father. "Weak eyesight runs in my family and I saw how this could be a barrier to success in one's life - I could only imagine the hardships faced by one who was completely blind. I decided I wanted to do something to help."
This simple decision has Ameen Abdulrasool on the threshold of one of the biggest innovations for the blind since Braille. Only instead of exploring the world of the written word, they'll be exploring their own environment.
Over the course of the last several years, Ameen has developed a self-contained, portable navigation system to help the visually impaired travel without the need of a guide. "It's like an On-Star* system at the handheld level for the blind," Ameen explains. His navigation system uses global positioning satellite technology, a headset and wristbands to guide the visually impaired through the busy streets of a modern world. At the very heart of the device is, not surprisingly, a sophisticated communication system. As the user proceeds to a pre-selected destination, he hears a steady stream of verbal cues, such as "sharp right turn in one meter," "turn now," and "turn completed." Right and left turns are accompanied by a vibrational signal in the corresponding wristband, a major enhancement according to Ameen. "Blind people become so used to using their guide cane, their sense of touch becomes a big part of their navigation skills." And since the tool periodically updates the user's position, the chances of getting lost, or having to rely on the kindness of a stranger are greatly reduced, leading to more independence, self-confidence and, ultimately, something Ameen Abdulrasool set out to provide from the beginning… "help."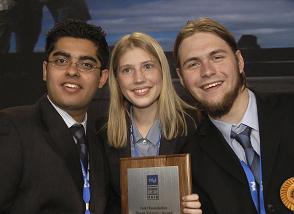 Along the way, Ameen has fetched the top honors at ISEF for his Behavioral and Social Sciences project, "Prototype for Autonomy: Pathway for the Blind." The International Science and Engineering Fair is the world's largest international science fair, attracting a field of several million young scientists from all over the world. After winning the top prize at ISEF, Ameen also won the Seaborg Stockholm International Youth Science Seminar (SIYSS) Award trip to attend the SIYSS event and the Nobel Prize ceremonies in December of 2005, a trip that included an introduction to the Queen of Sweden. And after these incredible accomplishments, what was next on Ameen's schedule? "Punk'd," actually. A little TV, a little R & R, maybe some "football in the yard."
"I want to enjoy my teens," Ameen says, "and remember what it was like to have no responsibility and just go out with my friends." For Ameen, that means taking a break from what had become an all-consuming quest to develop his navigational device, and catch up with his friends, have some fun. It means living the "typical college life of late night studying and midnight coffee runs" at the University of Illinois, Urbana Champaign where he plans to major in, surprisingly, business administration. "My favorite part of the whole thing was presenting," Ameen explains. "That's why I think business is a good fit for me. It's all about interpersonal relationships, communication."
When a young man spends three years of his high school life developing a personal guidance system for the blind, it's no shock when he's rewarded for his efforts. Nor, after hearing about the wonderful work he's done, is it so incredibly hard to believe that he's risen to the very top of the science fair world. It is a bit of a surprise, however, to look into the life of this young hero and find a normal person with normal tastes, who just wants to do things that are… well, normal. But perhaps that's what is most inspiring about Ameen Abdulrasool. He isn't larger than life. He isn't too busy or too important to take your call. He's like the rest of us, someone who loves his family and his friends, who just wants to hang out sometimes. He's someone who wants to make his mark while still making his memories. He reminds us that making the world a better place doesn't mean you have to change your lifestyle, that maybe there's a hero in all of us.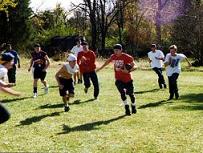 When asked who his hero was, Ameen Abdulrasool didn't have to decide between Louis Braille and Thomas Edison. He wasn't torn between Ben Franklin and Gandhi. No, the choice for Ameen's hero would be an even tighter race, the one between Ashton Kutcher and Owen Wilson. "Since they're both very funny, laid back, and always brightening people's days." As Ameen's personal navigation device promises to brighten more than a few days for the world's visually impaired, yeah, okay. That makes sense. Ashton Kutcher and Owen Wilson. Cool.
Page created on 8/16/2014 2:59:58 PM
Last edited 8/27/2018 5:12:33 AM