Abigail Smith Adams
by
Debra from Spokane
"Learning is not attained by chance. It must be sought for with ardor and attended to with diligence."
Abigail Smith Adams was born to William Smith and Elizabeth Quincy in Weymouth, Massachusetts. William was a liberal Congregationalist who emphasized the importance of reason and morality in religious life. Abigail married John Adams on October 25, 1764, which began one of history's greatest partnerships. They exchanged letters full of love and mischievous humor- they were lovers, friends, counselors, and mentors to one another throughout their long marriage. Her leadership during the Revolutionary War and the building of a new country showed a generosity of spirit and great courage.
Abigail Smith, like all women during the 1700's had no formal education, was an avid reader and very intelligent. John Adams' was a Harvard Graduate in law. They lived on the farm in Braintree (Quincy) or in Boston when Johns' law practice expanded. They had 3 sons and 2 daughters; during the war when their formal education was interrupted, she became their teacher. Abigail also ran the farm and dealt with wartime shortages and inflation; but most of all was her loneliness from being separated from her husband. That separation created what she was most famous for-the letters between her and John. Her letters are described as-"pungent, witty, and vivid, spelled just as she spoke- detail her life in times of revolution." "She left a voluminous correspondence, providing information on everyday life and insight into the activities in the corridors of power during her time."
She was one of the earliest spokeswomen for married women's property rights along with opportunities for women especially in the belief that women should be educated. This belief was shown with her thought that women should "educate themselves and be recognized for their intellectual capabilities;" they were responsible for running households, managing finances, and raising the children. In March, 1776, she requested full female enfranchisement in a celebrated letter in which she asked John to, "remember the Ladies, and be more generous and favorable to them than your ancestors."
Abigail accompanied John when he was a diplomat to England and France; she was sent a letter to Jefferson saying that she preferred her farm and chickens to the goings on the courts of Europe. When they traveled below the Mason-Dixon Line and viewed slavery, it strengthened her conviction that slavery was evil and threatening to the new democratic experiment. As the 2nd President of the United States, John and Abigail were the first ones to move into the unfinished White House; she complained about it being cavernous and that a fire had to be constantly lit to keep a few rooms warm enough to be habitable. She set up a laundry in one of the rooms, with clothes lines spanning its immense space.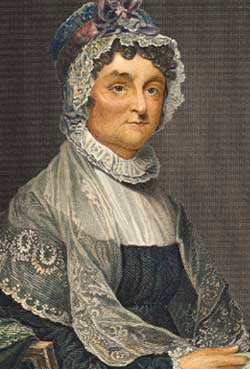 Women's rights, slavery, and education for everyone showed Abigail's ideals; and her caring leadership and desire for for all people showed her character. John took considerable pride in her accomplishments. He told her that she was so successful in the running of the farm and raising the children that the neighbors would remark on how much better things ran in his absence. In early October, 1818, she fell ill with typhus and died several weeks later. Her son John Quincy Adams the country's 6th President paid her this tribute in his journal, "There is not a virtue that can abide in the female heart but was the ornament of hers."
Page created on 2/8/2008 2:13:39 PM
Last edited 11/10/2018 9:11:22 PM
The beliefs, viewpoints and opinions expressed in this hero submission on the website are those of the author and do not necessarily reflect the beliefs, viewpoints and opinions of The MY HERO Project and its staff.