Ace
by
Brianna from Bradford, Ontario
"I've been doing search and rescue for seven years, and this is the wildest case I've had in finding someone alive."-Sgt. Mark Cox-Hamilton Police
I bet your hero is a person, right? Heroes don't always have to be people. This is something a little different. My hero is a Police Search and Rescue dog named Ace. Ace is an energetic Dutch-Shepherd . I chose him as my hero because I am interested in animals. Ace helps police do their work and he had saved someone's life.
Ace was born and lives in Hamilton, Ontario. When Ace was 18 months old, his original owners couldn't take care of him anymore. He was given to their friend, Hetty Abma, and she gave him to Hamilton Police Search and Rescue volunteer, Ray Lau. Ray's German Shepherd dog had been retired early because of health problems.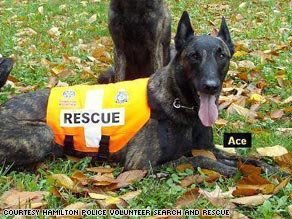 Ace was trained to smell and track certain things like people and their possessions. First, Ace was given to Ray Lau and was trained at the Hamilton Police Search and Rescue station. Ace went to work for the very first time in an outrageous snowstorm on December 22, 2008. He was in search of a woman named Donna Molnar who had been missing for three days. Next, Ray and Ace had been searching for three hours and it seemed hopeless, but Ace wouldn't give up. Ace suddenly bolted off and Ray followed. He knew that Ace could smell a human. Then, Ace stopped running and lowered his head into the snow and began to bark repeatedly. Ray looked down into the snow and there was a face sticking out of it. Finally, Ray realised that it was Donna. Surprisingly, she was still alive and conscious. This reminds me of when I read a book about animal heroes, who saved people and other animals, just like Ace had saved Donna Molnar.
Many people have character traits, and you might not think that an animal does, but they do. Ace has perseverance, courage and Ace is caring. I think Ace has perseverance because he wouldn't give up and kept trying when he was searching and training to be a Search and Rescue dog. Ace has courage because he went into a snowstorm and that didn't stop him. Ace is caring because he was thinking of others and rescuing them. Those are three character traits that Ace shows.
Ace influences me to keep trying and never give up, even if it seems impossible. Ace inspires me to not give up because he didn't give up to find the woman even though there was a terrible snowstorm and they had been searching for three hours. If you don't give up, you can achieve great things.
That is why I chose Ace as my hero. His story was featured on television and in newspapers all over the world. He never gave up and inspires me to that too. He was a hero.
Page created on 12/1/2011 1:06:53 PM
Last edited 12/1/2011 1:06:53 PM
The beliefs, viewpoints and opinions expressed in this hero submission on the website are those of the author and do not necessarily reflect the beliefs, viewpoints and opinions of The MY HERO Project and its staff.