Adan
by
Lupe from Woodland Hills
The word hero has varying definitions to different people. To me, a hero is a person who does something great, admirable, and even something out of the ordinary. Also, to me, a hero is someone I can look up to -- in other words, a role model. This is why my hero is Adan Sanchez. By being such a wonderful person and through his actions, he's earned my love and respect, and I'm proud to consider him my hero. As a singer he helped many organizations that helped children with cancer. He also participated in concerts, and then he donated his earnings to people who didn't have food or or a place to live. Adan truly had a kind heart.
As a child, Adan had to go through many difficult situations. When he was only 8 years old his legendary father, Chalino Sanchez, was murdered in Sinaloa, Mexico. His father was a singer who came to this country to look for a better future for his family. When he got here, he started writing songs and later started singing them. He was soon to become very famous among the people. Chalino's death was a very difficult stage in Adan's life as well as for his family. Not only did he have to face the fact that his father had died, but he had to see his mom in a stage of depression caused by losing her husband and by not knowing how she was going to go on with her life and how she was going to support her family.
As the man of the house, he decided to follow his father's footsteps since he was his role model. He wanted to begin his career as a singer to support his mother and his sister. Adan then realized that it wasn't going to be easy. His mother took him to many radio stations when he was only 9 years old to see if they would give him a chance and play his music in the station. Adan was rejected many times, but he never gave up; he was determined to accomplish his dreams. He worked hard and was rejected many, many times until he went to a famous Los Angeles radio station called, "La Que Buena." There they gave him a chance because they believed in his talent. Little did the radio stations that rejected him know that he was soon to become a hit, in a short period of time.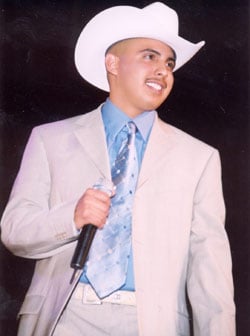 As he grew up not only did his voice change, but his physical traits did too. He became really handsome and became really popular among 10-30 year old girls. In his presentations he was known for his beautiful smile, charisma, and because he would always make a tribute to his father to keep his memory alive. Adan cared a lot for his fans and his community. He would regularly attend and participate in organizations and concerts, then donate the money earned. He also kept in touch with his fans and helped the ones in need. He never let his fame get to his head even after his outstanding performance in the Kodak Theater.
Little did his fans know that exactly a week after his concert he would die in Sinoloa, Mexico, in a tragic accident. What's really ironic is that he died 10 minutes away from where his father was killed. This news was really hard for all his fans -- including me. We couldn't believe that our idol had died. His mother decided to bring his body back to Los Angeles for his funeral. Little did she know that more than 35,000 people would attend his funeral. This was a never before seen phenomena. This showed how much Adan was loved and admired by the people.
In conclusion, Adan is my hero because he never gave up, even after being rejected so many times, in the process of accomplishing his dreams. He worked hard to be able to support his family and to help other people as well. In addition, he never let fame get to his head. Most importantly, he was able to recover from his father's death, and kept transmitting his father's music to keep his memory alive -- and I greatly admire him for that.
Page created on 9/16/2004 2:32:33 AM
Last edited 1/6/2017 7:08:17 PM
The beliefs, viewpoints and opinions expressed in this hero submission on the website are those of the author and do not necessarily reflect the beliefs, viewpoints and opinions of The MY HERO Project and its staff.
Related Links
Extra Info
Lupe from Woodland Hills says:
R.I.P Adan "Chalino" sanchez
I love you and you'll always be remembered!
April 14, 1984 - March 27, 2004