In Afghanistan, teaching men that education is not a threat Sakena Yacoobi started the Afghan Institute of Learning (AIL) to educate young girls. Then young boys started asking if she could teach them too.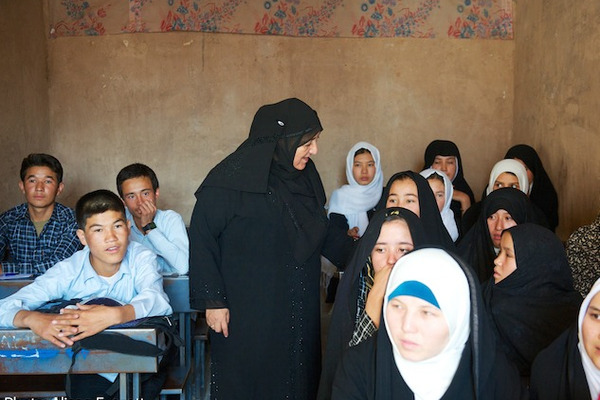 Courtesy of Alissa Everett
Many in the international development community focus on the education of women and girls, sometimes to the exclusion of educating men. While I believe it is vital to educate women and girls, I also believe it is a mistake to leave men out of the process.

My father was a successful businessman, well respected in the community. Though he was illiterate, he insisted that his children attend school. As the eldest child, I began learning to read at a local mosque. Soon, I was attending school.

I loved learning. After high school, I had the opportunity to attend a university in the United States, and my father was my biggest supporter. Though he was not what most people would think of as "educated", he was knowledgeable, wise, very open-minded, and a just and honest man; because of this he was often chosen to mediate disputes.

After completing my studies in the U.S., I returned to work with my people in the Pakistan refugee camps. I found my people struggling with a lack of education, knowledge, wisdom, and open-mindedness. Years of war had devastated our culture and torn apart the education and health systems, leaving people unable to adequately care for themselves and their families. The only thing they knew was survival and war.

Helping Afghans improve their lives through education


Working with refugee camp leaders, we began to train teachers and establish schools for boys and girls. I founded the Afghan Institute of Learning (AIL) and began supporting secret home schools for girls inside Afghanistan. Once the Taliban fell, we were able to operate openly and began working closely with communities to establish Learning Centers for women and older girls.
Our goal is to help Afghans improve their lives. In our schools and centers, students not only study the established curriculum, they also learn critical thinking skills, open-mindedness, wisdom, and ethics – all qualities that my father, an "uneducated" man, had in abundance.
My father's insistence on education forever changed the course of my life, and so I believe that a well-rounded education is the best way to improve people's lives and to make lasting change for everyone – women, girls, men, boys, young, old. Educated, wise women help their families financially and raise educated, wise children. Educated, wise men do not abuse women or children and recognize the worth and value of women and children.
Boys demand education too

Let me tell you a story. One day in early 2002, I went with my female staff to visit one of our Women's Learning Centers in rural Kabul. Suddenly a group of teenage boys with weapons appeared, blocking the road.
Our driver stopped the car and asked what they wanted. Pointing to me, they said, "We want to talk to her." Although my heart was pounding, I opened the door, got out of the car and asked them what they wanted. Their leader said, "Every day we watch your car come and visit your centers for women and girls. They are learning to read. What about us? We have been fighting and living in caves since we were little boys. Now we are too old for school, but we want to study. What can you do for us?"
At the time, we only had funding for females, and I had no idea where to find funding for boys education, but I said, "Give me a week." They said, "We will be waiting."
I went back to my room, praying and wondering what to do. Suddenly my phone rang. It was a donor who was very supportive of our work. Listening to my voice, she asked, "What is wrong?" I told her. She said, "Start your center for boys. I will find the funds."
And she did. Those boys went to school, studied hard, and also learned about human rights, cleanliness, manners, and ethics. Their parents were so happy! Soon they were able to transition into regular school.
All graduated from high school. Many went on to university or to study computers. Then and now, they have made sure that AIL has no security concerns in their communities. Today their daughters are going to school.
Open minds will make lasting change

There are those in Afghanistan who do not want women and girls to be educated. If we are to make lasting change, we need to open the minds of all who are still ignorant. They need to see that an educated girl or boy is not a threat to their culture, but is someone who will help to improve the whole community.
The women who come to our centers feel the same way. Men and boys need to be educated, not ignored. They need to be included in workshops and seminars with women and girls so that they can listen and exchange ideas and know that education is not a threat to them but is something that improves the lives of everyone.
- Dr. Sakena Yacoobi is the founder and CEO of the Afghan Institute of Learning. This article is published in association with SkollWorldForum.org.
Page created on 2/23/2015 12:00:00 AM
Last edited 1/5/2017 4:52:37 PM