"By blood, I am Albanian. By citizenship, an Indian. By faith, I am a Catholic nun. As to my calling, I belong to the world. As to my heart, I belong entirely to the Heart of Jesus."
(http://www.vatican.va/news_services/liturgy/saints/ns_lit_doc_20031019_madre-teresa_en.html)
Mother Teresa of Calcutta, a woman who has celebrated worldwide as a saint and who lived a life that wholly justified this renown. 'Many describe Mother Teresa as a rare living saint'. ( Thomas Moore, P. xiii ) During her teenage years, she was involved in a youth group named Sodality. While she was involved in several activities guided by a Jesuit priest, she was also interested in Missionaries. When she was 17, she got her first call to become a missionary nun. A Hero is a human being who over comes many obstacles no matter what the cost and who devotes their life to do so.
( http://nobelprize.org/peace/laureates/1979/teresa-bio.html )
Mother Teresa was born on the 26th of August, 1910 in Yugoslavia. At the age of nine her father tragically passed by believing in his political beliefs. She was the youngest of 3 children. Her family was her brother Lazar and her sister Age still lived a happy childhood even though their father passed away. The 25th of September 1928, she decided to leave her family at the age of 18, so she could travel to Ireland to study English as a second language. In 1931, she took her first sisterhood vows, after that she chose to be named sister Teresa. The reason why she chose her name to be sister Teresa is because she 'chose the name of a French saint who she read a biography on and greatly admired.'
(www.ewing.k12.nj.us/ewingweb/Schools/Fisher/Omega/Danielle/teresadf.htm#Adult%20Years)
Mother Teresa loved teaching little children. She loved attending church regulary. She had only a little bit of money, with that money she bought herself a new home. In that home she had some of the sisters come to live with her so they can join the congregation with her. There were to many sisters. Mother Teresa and sisters decided to go look for a bigger house for them to stay in. 'Finally, she found a three-story house that was available. Then, Mother Teresa and her sisters set up a new house on the holy site of the Temple of Kalighat. This was known as "The Home for the Dying." It would be a place that the sick and poor could go too. If they were lucky, Mother Teresa would be able to save them. But even if there was no hope, at least they could die in peace.'
(http://www.ewing.k12.nj.us/ewingweb/Schools/Fisher/Omega/Danielle/teresadf.htm#Adult%20Years)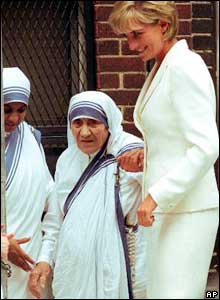 Here are the five qualities I have chosen for my Hero. My first quality is kindness. The reason why I chose kindness is because Mother Teresa listens to anyone and everyone. For example: When a less fortunate person asks her for help, she did not hesitate. My second quality is generosity. The reason why I chose generosity is because she gives everything that she had, besides the close on her back. For example: She gave shelter for the less fortunate. My third quality I have chosen for Mother Teresa is Saint. The reason why I have chosen saint is because she's done so much to help the poor. For example: She devoted her life to the poor. The fourth quality I chose is respect. The reason why I have chosen respect is because if someone had a different opinion, she respected their point of view. For example: When someone would give their opinion about something she would not argue against their opinion. The last quality I have chosen for Mother Teresa is role model. The reason why I have chosen role model is because there were a lot of people who looked up to her for all the good things she has done. For example: When Princess Diana was amazed by Teresa's accomplishments.
The things Mother Teresa did for the world are she left her convent to go work with the poor. 'Keep the joy of loving the poor and share this joy with all you meet. Remember works of love are works of Peace. God Bless you.'
(Mother Teresa , http://www.ewtn.com/motherteresa/life.htm)
She knew that's where she belonged. She started a school in slums to teach the poor children. Mother Teresa learned a couple of things about medicine and helping people so, she decided to go help and treat the sick people. They were walking on the side of a road and found some people laying there helpless and sick because some hospital's didn't want to treat them. Mother Teresa decided to rent a room so she could take care of them.
(http://www.ewtn.com/motherteresa/life.htm)
My personal connections with Mother Teresa is that I would say that I would say that I'm amazed of the things she has accomplished because it would take a lot of patience to do the things she's done in her lifetime. To me she should be considered a saint, she is loyal, trustworthy and a great Role Model to society and to the rest of the world. I'm sure our Religious backgrounds, 100 years from now will remember as a saint to the poor, giving all she could. We as a community of Christians couldn't have asked for anyone to do a better job then what Mother Teresa did.
Page created on 10/30/2005 12:00:00 AM
Last edited 10/30/2005 12:00:00 AM