Louisa May Alcott
by
Camille from Laguna Beach
Christmas won't be Christmas without any presents.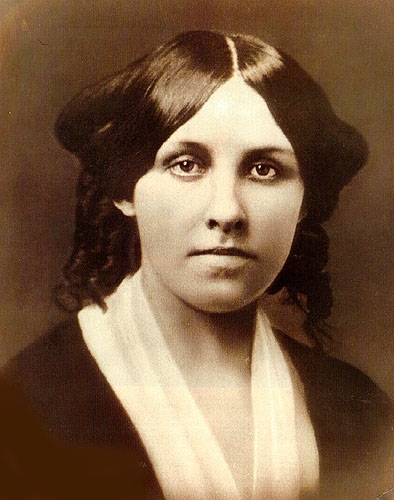 Louisa May Alcott[Public domain], via Wikimedia Commons
Louisa May Alcott is remembered as a famous author. She is probably best remembered for writing the classic story "Little Women," but she wrote many other books too. Louisa was born and was the second daughter of her family. She was born in Germantown, PA on November 29,1832. Louisa had three sisters; Anna, Lizzie, and Abbie May. Louisa and her sisters loved putting on plays for their aunts, uncles, parents, and anyone who would watch.
Louisa's family life was full of love, but not much money. When debit charges came around, the family boat began to sink. Louisa wanted to help. She took in odd jobs like mending and washing laundry and teaching small children. It was at this time Louisa got her first written piece published. It was a poem titled " Sunlight. " This was the beginning of a memorable writing career in her very sad, short life. Three years later Louisa had her first book "Flower Fables." It was published when she got older, and then she went to Washington, DC to become a Civil War nurse.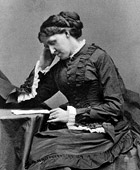 Louisa May Alcott[Public domain]It was there that she contracted typhoid fever. Although she recovered, the poison from the mercury in the drugs that cured her stayed in her system for the rest of her life. It was then that she wrote, " Hospital Sketches " followed by "Moods." The next year she wrote her most famous book called " Little Women " in two months time. She wrote this book about the experiences she and her sisters had growing up.
In 1876 Louisa became active in the Women's Suffrage Movement. This was the movement to allow women to vote. Louisa went door to door to get them to vote. In 1879, Louisa was the first woman to register to vote in her local town of Concord's school committee election. She was also a writer for the "Women's Journal".
Louisa had a lot of accomplishments, but the greatest one of all was her gift of humanity. Louisa volunteered as a nurse in the Civil War, and she did everything she could to help her family. She was a good person who had a good heart.
When Louisa was little she loved to take nature walks with her sisters. Louisa and Anna used to write plays when her and her sisters would act out in front of her family and friends. One of her family friends was named Ralph Waldo Emerson. He was a famous author and poet. Louisa said, "If I ever got married I would marry someone just like him". I'm very happy that I chose Louisa May Alcott for my report. Even though her family moved a lot and her life was often rough and upsetting, she still thought about other people first. She shared her life and books and she shared everything she could. She really had a big heart.
Page created on 10/19/2011 1:29:21 PM
Last edited 11/29/2019 8:55:53 AM
The beliefs, viewpoints and opinions expressed in this hero submission on the website are those of the author and do not necessarily reflect the beliefs, viewpoints and opinions of The MY HERO Project and its staff.