Alfred P Sloan


Agence de presse Meurisse via Wikimedia [Public domain]
Children of the '80s and '90s may remember Alfred P. Sloan's name from the credits at the end of educational programs on public television which introduced them to concepts in science and technology. Business students may appreciate the revolutionary management program Sloan funded and founded at MIT, while scientists from mathematicians to molecular biologists may thank his foundation for the generous funding that allows them to explore the origins of the cosmos and find cures for cancer. This very website, with its ever-growing database of heroes and their inspirational stories, was made possible largely by a grant from the Alfred P. Sloan Foundation.
In 1934, Alfred Pritchard Sloan, Jr.—entrepreneur and long-time president of the General Motors Corporation—donated much of his wealth to the foundation that bears his name. He endowed it with a duty to "continue as an operating facility indefinitely into the future…to represent my accomplishments in this life." And those accomplishments were impressive, shaping the relationship between corporations and government.
Yet we know very little about Sloan's personal life. An intensely private man, he destroyed nearly all of his personal documents, and after his death General Motors destroyed most of the rest. His 1963 autobiography My Years with General Motors told much about the company and his chairmanship of it; almost nothing about the man himself. We do know that he was born in New Haven, Connecticut, on May 23, 1875, to a machinist-turned-small business owner. The first of five children, Sloan had little patience for childhood. He finished school quickly and fought to enter MIT early, graduating in just three years as the youngest member of his class in 1892. An electrical engineer by training, Alfred, Jr. spent several years as a draftsman for the Hyatt Roller Bearing Company (which manufactured roller bearings, a component of car transmissions), before taking over as president of Hyatt in 1899 at 24 years old.
Here, he began to develop the system of decentralized management that would later make General Motors so robust. In this system, the head of a division of a company could make certain decisions independently of the head of the corporation, provided he adhered to a set of centralized rules. This encouraged managers to take risks that could open new markets for the company. In 1916, Sloan sold his company to General Motors. Seven years later, he would be its president.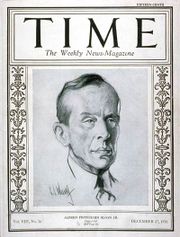 GM was, during Sloan's period of leadership, the largest corporation in the world. He would serve as its president for fourteen years, from 1923 to 1937, and as chairman of the board for a further nineteen years until his retirement in 1956. An entrepreneurial genius, Sloan made several groundbreaking changes that are standard practices for carmakers today. Nowadays it is customary for a car company to change its models each year, so that a 2005 Chevy Suburban is by nature a limited commodity, to be manufactured for a short time and eventually replaced by the 2006 Chevy Suburban. This concept, called "planned obsolescence," recognizes that each car model will eventually become obsolete as technology improves or as people get sick of it and want something new. Sloan is credited with crafting this system.
He also gave his customers more choice of cars, allowing him to attract a wider portion of the population.
"Sloan absolutely believed in giving people cars that they wanted," says David Farber, author of Sloan Rules: Alfred P. Sloan and the Triumph of General Motors, in an interview with the University of Chicago Press. "That was what made him so different from Henry Ford, who thought he could pick out the single best car for every American. Sloan was probably the first car man to accurately predict that some day most American families would have at least two cars in every garage. He was a leader in using consumer surveys and dealer reports in figuring out what kind of cars people wanted to buy."
But the traits that made him such a successful businessman also had their drawbacks. Sloan's fervent belief that corporations were the backbone of the country brought him head to head with Franklin Delano Roosevelt and the unions that sued for workers' rights and government supervision of big business. And Sloan resisted what he felt to be overzealous attempts to improve the safety of automobiles. Yet Sloan's story reminds us of the power a brilliant businessman can have over a country's prosperity, by providing his company with the funds to improve society. At the time of his death on February 17, 1966, GM had been the most successful car seller for thirty years—and the corporation remains strong today.
"Sloan's tenure at GM provides a useful reminder that great corporate leadership is mainly honest and usually brilliant. It is, also, almost always fiercely self-interested," says Farber.
"Through his business genius, his sometimes myopic social vision, and his vast fortune," says a review of Farber's biography from the University of Chicago Press, "Sloan was an architect of the corporate-dominated global society we live in today."
Page created on 4/27/2006 12:00:00 AM
Last edited 5/13/2020 4:29:44 AM
Bibliography
Sloan Foundation. "Alfred P. Sloan Foundation." [Online] Available http://www.sloan.org/main.shtml.
Britannica Online. "Alfred P. Sloan, Jr.." [Online] Available http://www.britannica.com/eb/article-9068214. 2006.
Farber, David. "Sloan Rules, an Interview with David Farber." [Online] Available http://www.press.uchicago.edu/Misc/Chicago/238040in.html. 2002.
Sloan Foundation. "Life of Alfred P. Sloan, Jr.." [Online] Available http://www.sloan.org/sloanbio.shtml.
Wikipedia. "Alfred P. Sloan." [Online] Available http://en.wikipedia.org/wiki/Alfred_P._Sloan.