My hero is Alison Whitehouse, my riding teacher, my babysitter, and an awesome friend of mine. She is special to me because she is an amazing horse rider and I think she is almost an expert on horses too. Also because when she baby-sits, it is always exciting and super fun. I also chose Alison because she cares so much for nature and because she is so nice, caring and a horse-loving. To me, she is an amazing hero!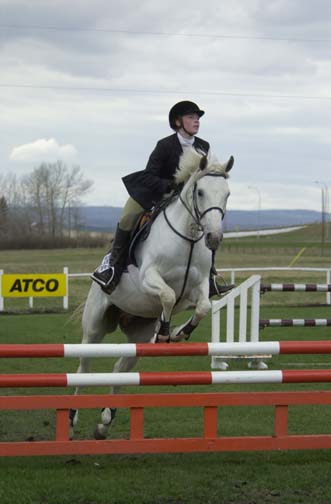 Alison was born on Calgary, at the Foothills hospital on June 1st, 1984. Alison has lived on Calgary for most of her life. Her family was very fortunate to go on many holidays and participate on different activities. At the age of 10, Alison went to Spruce Meadows to see a horse show. Then, Alison decided, hey! I'd like to try that! After that Alison started English riding lessons. She rode in a lesson horse program for many years. Later, Alison persuaded her parents (Liz and Ken Whitehouse) that she was very serious about riding. So, she started half-leasing a horse named Iron. Iron taught Alison a lot about riding because he was so well trained and the riding instructor could tell if Iron had done something wrong, because she knew the horse so well. Iron was such a good horse partly because he had done a lot of showing and he knew his job. The next horse Alison leased was a challenge because she was only 4 years old, when Alison got to ride her. Her name was Pebbles. They had a very long "getting to know each other" period. After, they got on really well. Alison took swimming lessons as well as riding ones, but she always loved being around horses more than anything. Alison skied and loved to read. She went to Ranchlands Elementary School, then to SPB Junior High, and then to William Aberhart High School. Growing up, Alison had one younger brother, Michael.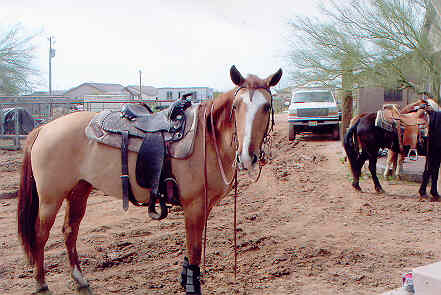 Alison goes to Mount Royal College. She is participating in their bachelor of applied Ecotourism and Outdoor Leadership program. Alison chose to go to Mount Royal College because she wanted to stay in Calgary. To save up to buy her horse, Shorty, she worked at Sunnyside greenhouses and working for a stable exercising other peoples horses. Alison also volunteered at the Mitchell centre. She learned a lot from their horses and other people that worked there. When Alison was there she learns a lot of things about the horse, world that were not the greatest. In return, Alison tried to tell them about the cause and what they can do to help cure it. This is where Alison got Shorty. He got pulled out of a meat pen February of 2004. Alison finds it hard to believe, if it wasn't for this organization, one of her best friends could have been dead.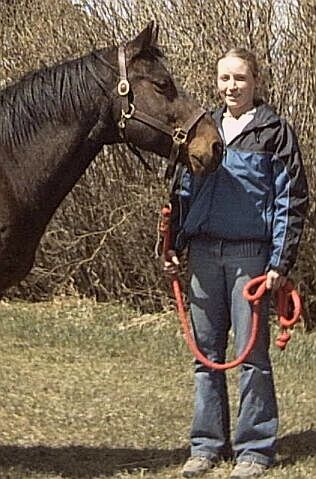 Alison chose to work with horses because she loves their peacefulness and the way that two different beings, who don't speak the same language, can make such and amazing team. Alison also loves the way they can forgive and learn to trust. Therefore, Alison's hero is her horse, because he is ways there to listen, he doesn't tell anyone her secrets, Shorty carries Alison around, Shorty gives awesome hugs, he's always warm the winter and Shorty is very forgiving. Shorty is also Alison's #1 partner in riding too, mostly because he will tell Alison the most about riding. As much as she loves Shorty, Alison has fallen in love with a horse named Bolero down in Arizona. She is a half mustang, half quarter horse and is a red dun. Alison is using most of her savings from working at a dude ranch this past summer to but her and will be bringing her back to Calgary with her in April. Alison loves Shorty so much and would only sell him to a friend or someone she knows really well that would take care of him and love him as much as she does.
Alison has made a big difference in my life and mainly the way I feel about horses. For example, before I started riding with Alison I really didn't know a ton about riding or mainly horse and their feelings. Now, I know a lot more about them. As you can see, Alison is a great hero to me.
Page created on 4/27/2005 12:00:00 AM
Last edited 4/27/2005 12:00:00 AM
Related Links
The Mitchell Centre
- Non-profit organization working to rescue reusable and young horses from slaughter.
Breeds of Livestock-Horse Breeds
- An alphabetical listing, history and breed specifications of many horse breeds from the Oklahoma State University Horse Project.
NATURE-Horses
- Nature program on what a horse is, how some handicapped riders hace succeded, and how horsepower has helped civilization...
Mount Royal College
- Provides applied degree, university transfer, career diploma and certificate.