Music will not be good without your heart in it - Ammy Kurniawan
One of my biggest heroes is Ammy Kurniawan. He is my violin teacher. He lives in Bandung and he has been my violin teacher for nearly 7 years. For me he is a super teacher. He started to play violin when he was in the fifth grade of elementary school. Firstly he studied classical with his father's own friend, a very talented Dutch violinist. And then when he was in the high school he started to explore another kind of music, i.e jazz, rap, rock, country. That's why he's very talented to play ALL KINDS OF MUSIC. Now besides teaching violin to few students, he is one of the nation's leading violinists, becoming one of the violinist all stars of Indonesia and his album will be launched on 2008. Besides that, he has also become the violinist of one of the famous jazz bands in Indonesia named 4Peniti.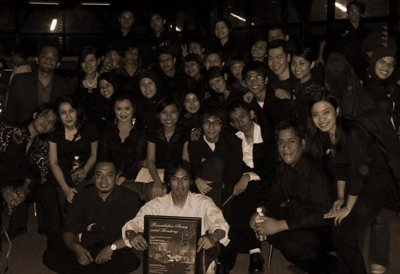 His career before was not as smooth as a silk. He even stopped playing violin when he was at my age. And when eventually he started again and joined the biggest orchestra in Bandung, he was dumped from that orchestra. At that time he almost lost his confidence. But later on, he discovered that the conductor had dumped him because he thought that my teacher was not an orchestra type. The conductor said, "You were born to play as a soloist" and yes, indeed. He will never be a great violinist if he keeps playing in an orchestra.
I love my violin teacher very much, he's the best teacher ever. HE'S A SUPER TEACHER FOR ME. Not like another teacher who only teaches us how to play, he teaches me everything. About music, many styles of music, the heart of a musician, attitude of a musician, arrangement, performing style and everything. He always supports me to strive for the best. Besides, unlike any other teacher, now we are not just a teacher and student. He has became my hero, my teacher, my inspiration, my big brother, and also my best of the best friend. Why can I say he's not just a teacher? Because now we can share everything together, including boy things!
He's just super for me. WHY? he always said to me that a music will never be good if it is not played with our deepest heart. And I 100 percents agree with it. He teaches me to play with our own style, we don't have to be like another violinist. He said that I HAVE TO BE WHAT I AM and develop my style. He always warns me not to be arrogant no matter how good i am, because on top of the sky there are still so many skies greater. And he always reminds me to practice and practice, no matter how good we are. He is not only building me to play violin well, he's also building me into a good individual.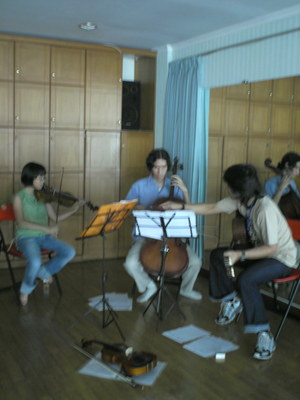 He also has a very good method of teaching. He never scolds the student because they don't play well. Instead, he encourages and supports them to play well. He lets us play what we like as long as it is good for us and he always brings his student to a performance. And the last, he is just so understanding. He teaches his student as what the student is and if he cannot do that he will give the student a new teacher. For example, one of my friends named Bimo was his student, but my teacher saw a big potential for classical music. Then, my teacher gave him a new classical teacher. He hoped that Bimo can learn classical better with the new teacher. And it did really work, Bimo now is the member of ASEAN Youth Orchestra.
We really can see that my teacher will do anything to make his student become great, won't he?
I guess, without him, i will never be able to be a junior violinist like i am now. I mean, i gain almost everything from him. Not only violin playing, but living as a violinist. Without him, maybe i will never find my own style of playing. Without him, maybe i will never be an extraordinary junior player with an attitude. Without him, maybe i will be just like another good player, good playing but arrogant attitude. Without him, i will be nothing
So thank you my beloved teacher, YOU ARE MY HERO! :)
Page created on 10/29/2007 12:00:00 AM
Last edited 10/29/2007 12:00:00 AM