Andrew Gaunt
by
Andrew from Greensboro
My hero is my P.E coach, Coach Gaunt. Andrew Gaunt lives in Greensboro, North Carolina and he teaches at Greensboro Day School. He has made a difference in the days that I have P.E; that is he makes them more fun and also he makes sure that you exercise, because that is what physical education is for.
He is my hero for many reasons. First, he knows how to make people behave without disrupting the class. Next, he makes us do what we have to do without any exceptions, though in reason. Last, he is very funny.
In our school, a lot of people try to misbehave. I know that in P.E class, most people don't.. I know that if people fool around too much, they won't get away with it. Sometimes, he just warns them, though sometimes they have to do something else, like play right field in baseball, which no one likes. Moreover, if they get out of hand, which rarely happens now, they will get a more severe punishment.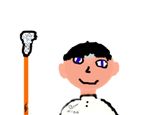 This next reason also has to do with behavior, sometimes. One day, we went to run the mile for fitness testing. A lot of people don't like running, especially on a timed mile. The result was people acting like they were hurt. Of course, he didn't believe most of the people. Though, two of the people were actually hurt. After everyone realized that those two were hurt, he asked them if they could run. One said no. I can't remember exactly what he said, but it went basically like this, "Just do your best, you can walk if it is really hurting you. You can do it another time for the recording, but just make sure that you do it now." That is really easy to say, but it is the best answer I have ever heard in that type of situation. This is what he does if anyone can't do the activity, though he keeps it fair.
Last, he is really funny. Sometimes it is just because he makes funny jokes. Like when someone says something silly that really doesn't make much sense, he makes a funny joke of it. Although, it is always at the right time, and with the right people, so everyone thinks it is funny. He has a good sense of humor and always makes sure that no one will be offended with his jokes.
That is why I chose Coach Gaunt for my hero. He really is a really a hero to me.
Page created on 6/5/2007 12:00:00 AM
Last edited 6/5/2007 12:00:00 AM
The beliefs, viewpoints and opinions expressed in this hero submission on the website are those of the author and do not necessarily reflect the beliefs, viewpoints and opinions of The MY HERO Project and its staff.