Anne M. Frank
by
Kelsey from Milton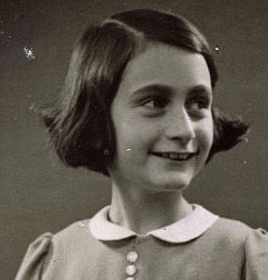 Anne M. Frank was born June 12, 1929 in Frankfurt, Germany. Anne Frank and her family moved to Amsterdam in 1933, after the Nazis gained power in the Nazi occupation of the Netherlands. Anne Frank was a German-Jewish teenager who was forced to go into hiding during the Holocaust. Anne Frank was really interested in writing. She got her first diary on her 13th birthday 1942. She and her family, along with four others, spent 25 months during World War II in the walls of her father's office building in Amsterdam. During this time she wrote down many of the experiences that she and others had, including some of the restrictions like curfews only for Jews, and they were only allowed to go shopping in certain super markets. There were even some separate movie theatres. After a while Anne's family was betrayed by someone with growing suspicion. Her family was arrested and deported to the Nazi concentration camp Bergen-Belsen. In March of 1945, nine months after she was arrested, Anne Frank died of typhus at there. She was fifteen years old.
While in hiding Anne also wrote a lot. She started writing short stories. She described her family and friends and all of the restrictions that Hitler put on the Jewish people. If this primary document were lost, there would not be as much known about this horrible event as there is now. Her diary was saved during the war by a family friend, Miep Gies. Miep Gies gave the diary to Anne's father who had it published in 1947. Today, her diary has been translated into 67 languages and is one of the most widely read books in the world.
Anne Frank is a huge hero because she was in such a bad spot yet still she was able to preserve every moment for the future. In her diary she expresses the pain, happiness and sadness so well that you could feel it. Her diary is moving and is something that will be cherished for many years to come. Anne Frank is a hero of all time who was brave, faithful, and courageous.
Anne is a very brave hero because she was able to deal with a CONCENTRATION CAMP. People now would never be able to make it through a situation like that. People these days are so used to being spoiled and we never had to fight for something we need. During the time of the Holocaust she used her bravery to make it through.
Anne also had extraordinary faith! When she was in the concentration camps, she had faith that one day she would once again see her mom dad and sister again. The fact that she could be in such a predicament and still think rationally and have faith is just so amazing because I know that if I had to live like that I would lose faith so fast. I would want to think that I could see my family again but I would not believe it.
Anne had incredible perseverance and was always working to make it through and be able to live another day.
At my school, we had a guest speaker and she said, "My story was one that Anne Frank might have told." She told her story with such power that you almost felt her pain. During a time like that it must seem so hard to live and I know that I wouldn't be able to last as long as these courageous people. Our guest speaker had spent seven years there though and told us many sad stories.
Anne Frank is a wonderful girl and it is a shame that she isn't here to tell her story, but she will live on through her diary forever.
I would like to thank Marion Blumenthal for her excellent historical story of her time in the same concentration camp as Anne M. Frank.
Page created on 6/8/2007 12:00:00 AM
Last edited 6/8/2007 12:00:00 AM
The beliefs, viewpoints and opinions expressed in this hero submission on the website are those of the author and do not necessarily reflect the beliefs, viewpoints and opinions of The MY HERO Project and its staff.