Anne Frank
by
Rachel from Peterborough
Anne Frank was one of the millions of Jews prosecuted during the Second World War. The German Nazi invaded Netherlands in 1940 and severe anti-Jewish measures began. Anne Frank was born in 1929 in Frankfurt am Main in Germany. In 1933 the anti Jewish party led by Hitler commenced. Anne Frank Jewish parents named Edith and Otto Frank concluded that they didn't think there was any future in Germany for themselves or their children. In 1933 they flee to the Netherlands, Anne is only four years old and until she is 11 she grows up in Holland. The fear of being sent away to a concentration camp was a reality for the Frank family, so Otto Frank had discussed going into a hide out.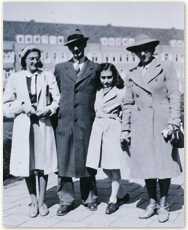 At first Anne sees the whole experience as an exciting experience but as time progresses she sees the harsh reality of the war and prejudice. Anne frank attended a Montessori Nursery School until she was six and then she went on to an elementary school. Anne frank described in her diary for over two years. Anne wrote about her experiences, story, fables and all sorts of writing.
August 4, 1944 the Secret Annex is raided by the Gre Polizei (Security Police). Anne Frank and the seven others in hiding are arrested. Long journey followed in Concentration camp in Holland, Poland and Germany. All but Otto Frank die from hunger or disease. The eight residents of the Secret Attack were transported to Auschwitz leaving for camp Westerbork. Only a month later in Auschwitz, Anne Frank and her sister Margot were transported to Bergen-Belson Concentration camp. Every day thousands of people were dying from hunger and from sickness. Bodies were being dumped everywhere and the smell of dead corpse was vulgar. Anne and Margot both contracted typhus and from being around each other they both died in March 1945. The tragedy of the story is that only a few weeks later everybody was liberated from all concentration camps.
Page created on 1/28/2004 12:00:00 AM
Last edited 1/28/2004 12:00:00 AM
The beliefs, viewpoints and opinions expressed in this hero submission on the website are those of the author and do not necessarily reflect the beliefs, viewpoints and opinions of The MY HERO Project and its staff.
Extra Info
http://www.annefrank.nl/ned/default2.html