Annie Sullivan
by
Kasandra from Spokane
Annie Sullivan was one of the greatest women of her time. She was the first person to teach a child that was both deaf and blind. Great contributions were made in the field of education of the blind by her. She faced many trials in her lifetime, going from blind in an orphanage to a successful teacher that helped change the world of teaching for the blind.
Born on April 14, 1866 in Feeding Hills, MA, Anne Sullivan was born into a world of poverty. Even though she was called Anne from the beginning of her life her full name was Johanna Mansfield Sullivan. Her parents were poor immigrant from Ireland, the mother was weak and was suffering from tuberculosis, and her father was an alcoholic and abusive to her and her sibling Jimmie. When Anne was around the age of 8, her mother died from the tuberculosis leaving her with her abusive father and Jimmie. After about two years after her mother's death, Anne and her brother Jimmie were sent to live in an almshouse in Tewksbury, Massachusetts, which was an orphanage. To make matters even worse Anne had contracted a disease called trachoma, which left her blind by the age of seven. It was only after several operations that Anne regained some of her sight. Jimmie, who had a tubercular hip, eventually died in the almshouse leaving Anne alone. Anne now was uneducated and alone.
Her life took a turn for the better when the state official, Frank Sanborn, came to the almshouse. "Anne literally threw herself in front of him crying 'Mr. Sanborn, I want to go to school" (Women in history). After that she was able to go from the almshouse and into the Perkins Institute for the Blind in Boston Massachusetts . There she learned how read and write; she even learned how to use manual sign language, which helped her greatly in later years. In 1886 Anne graduate as the valedictorian of her class. A short time after that Anne was asked to teach a little girl that both deaf and blind; the girl was out of control. Anne accepted the job and moved to Alabama to teach Helen Keller. This would be the greatest role in Anne's life. Anne taught Helen how to communicate with the rest of the world through the use of manual sign language. Eventually Anne went to Cambridge Massachusetts when Helen was accepted to Radcliffe College. Anne and Helen bought a farm in Wrenham Massachusetts where they spent some of their happiest times (American Foundation for the blind). While at Radcliffe Anne and Helen meet a man named John Albert Macy. He helped Helen with her autobiography and while he was helping her, Anne and he fell in love. They were married in 1905 but unfortunately the marriage did not last; Anne and John eventually separated.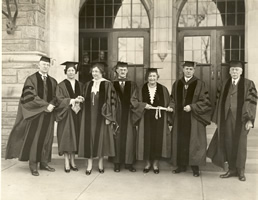 Anne and Helen were joined by Polly Thompson. She acted as a secretary to Helen and an assistant to Anne. Anne's health eventually went down hill and eventually she went blind but that did not stop her from traveling around the US and other countries with Helen and Polly, delivering speeches about the blind. "In 1924, Anne and Helen began to work for the American Foundation for the Blind (AFB) as advocates, counselors, and fundraisers" (American Foundation for the blind). Anne eventually received many awards for her wonderful work with Helen some of which she declined. In conclusion Anne Sullivan is an amazing women because she overcame many trials that many people today would have a hard time overcoming. She made a huge impact on the education of the blind and deaf. She showed that those people could and should be taught. In my eye she is a great women to look up to because of her strength and willingness to never give up.
American Foundation for the Blind. (2007). Anne Sullivan Macy biography. September 27 2007. http://www.afb.org/AnneSullivan/asmbiography.asp
American Foundation for the Blind. (2007). Anne Sullivan macy: Miracle worker. September 27 2007. http://www.afb.org/AnneSullivan/
Burke C.M. (2007). The Annie Mansfield Sullivan foundation, inc September 28 2007. http://www.anniesullivan.org/
Women in History.(n.d.) Annie Sullivan biography. Lakewood Public Library. September 27 2007. <http://www.lkwdpl.org/wihohio/sull-ann.htm>.
Page created on 10/12/2007 12:00:00 AM
Last edited 9/10/2018 12:53:01 AM
The beliefs, viewpoints and opinions expressed in this hero submission on the website are those of the author and do not necessarily reflect the beliefs, viewpoints and opinions of The MY HERO Project and its staff.