St. Francis of Assisi
by
Michelle from Hobart
My hero is St. Francis of Assisi, and he was born in the central Italian hill town of Assisi in the year 1181 A.D. or it might have been 1182 A.D.
His father was Don Pietro Bernardone, a wealthy cloth merchant who dealt in rich silks and velvet material. His mother Dona Pica Bernardone, who was originally from France. A few days after St. Francis of Assisi was born he was baptized in a local church and given the name Giovanni or John. When his father returned from his business trip he did not like the name that his wife gave him. Overruling his wife he named him Francis or the Frenchman, because Dona's nationality was French.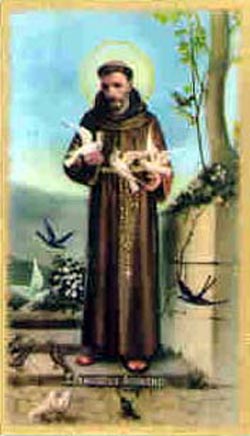 At 20 years Francis took part in a war between Assisi and Perugia. In 1202 he was captured by enemy soldiers and thrown in prison. He was released in 1203. During this time he saw much suffering. When he returned home he became seriously ill. While he was recuperating he did a plethora of thinking about his life, its meaning, and its purpose. One day while in the church of San Damiano, he asked: "Lord, what do you want of me?" he heard a voice that seemed to be coming from a painted crucifix on the wall. That voice said: "Francis, rebuild my church." Francis then on devoted his life to solitude, prayer, helping the poor, and raising money to help rebuild run-down churches. He then became known as the "begging brothers." In 1209 he asked Pope Innocent 3, if he could start a brotherhood. He was given permission. Francis always refered to himself as "little brother Francis." He called all creatures brothers and sisters and he loved nature. He considered it to be the minor of God on Earth. Once he even refused to put out a fire because he feared that he would injure sister fire. It was said that rabbits would come to him for protection. Another story says that he was scolded a brother wolf for terirzing an entire village. The wolf then stopped terrizing the village. In 1224 Francis was praying on Mount Alverna. While he was praying he saw an angel carrying a cross with a man nailed to the cross. When the vision was gone he had taken on the marks of a person who had been crucified. These marks were from Jesus Christ and caused him much pain until his death.Francis died on October 3,1226 A.D.
St.Francis of Assisi is important to me because he showed me how important nature and animals are. He taught me how to apperciate animals and others, also showed me the wonders of God.
St. Francis of Assisi has made a difference in my life because I know what to be a veterinarian. I love nature and thank God for all the wonders he created. St. Francis of Assisi showed me how important it is to love God and all his wonders and creations. He helped me to realize the importance of prayer.
Page created on 7/13/2004 12:00:00 AM
Last edited 7/13/2004 12:00:00 AM
The beliefs, viewpoints and opinions expressed in this hero submission on the website are those of the author and do not necessarily reflect the beliefs, viewpoints and opinions of The MY HERO Project and its staff.