Working with the MY HERO Project as I have for a number of years, I have come in contact with scores of heroes. Both famous and anonymous, rich and poor, they come from all over the world; athletes, family members, artists and teachers, all of their stories worthwhile, most of them inspirational in some way, but sometimes someone comes along who doesn't just inspire me, they give me hope.
Atsuko Shiwaku is one of these people. My hero is a wife, mother of three, a teacher and, for the past five years, the head of Japan Art Miles, the Japanese wing of the Art Miles Mural Project.
I first met Joanne Tawfilis, the founder of the Art Miles Mural Project, in Slovakia (during the) iEARN International Conference in 2004. This meeting would affect Atsuko deeply. Joanne Tawfilis, she would come to realize, was more than a passing acquaintance. My Hero is Ms. Joanne Tawfilis. She has been devoting herself to PEACE - to change tears of children on this planet into smiles. Her heart is always warm, her smile is always gentle, her words are always encouraging and her behavior is always challenging and powerful! She is a person who changed my life. As I learned more about the project, (I came to) touch Joanne's soul. And that's when I came to think that I should start this meaningful project in Japan. Energized by her new friend, Joanne, and the tireless dedication of her husband Yasumasa, she started Japan Art Mile in 2005.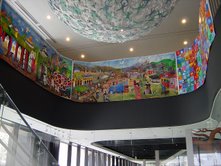 Armed with a gentle spirit and a paintbrush, Atsuko has since organized the creation of scores of full-size murals, each of them reinforcing a simple but powerful idea: get young people to sit down and paint together and they learn about each other. Give them a shared theme to explore and they understand each other's points of view and cultures better. Atsuko's goals for the project are clear, "If I connect children in the world through this project, I might be able to contribute even a little to raising the next generation with a global view, one that will make a difference, make a better world."
And that's exactly what she's doing - one mural at a time. As the one to bring the project to her home country, Atsuko set out by informing schools throughout Japan about the Art Miles Mural Project. Since Atsuko's vision for the project included the international exchange of cultural and historical knowledge information, she and Yasumasa thought it would be important to promote the project in public schools as International Education. And if this weren't enough to keep her busy, it was just about this time that Atsuko set up the International Intercultural Mural Exchange Project.
"The process of creating one mural with a partner school in another country is the very same process of working with different people in in today's international world: understanding people of different cultural and historical backgrounds, working together toward a common goal, respecting each other. Here, the key to success is COEXISTENCE. I believe COEXISTENCE is also a door that leads to WORLD PEACE."
As an example, Atsuko points out a MURAL EXCHANGE between Japanese and Italian students.
The children took advantage of the internet by using a Bulletin Board System and Video Conferencing. They introduced themselves and their schools and taught each other about their respective countries and people. They traded ideas and pictures concerning their agreed-upon theme and decided what and how to create it. Then, each class drew its own town on its respective half of the canvas to create one beautiful mural.
Atsuko explained why a cultural exchange of this type is so important in today's world. "I've been concerned that children living in this rich country with no fear of hunger or wars are so satisfied with their present life that many of them do not make any effort to grow. They do not seem to have any interest in what is happening in the world in spite of today's international world or any dream or expectation in their future."
In response to this cultural apathy, Atsuko introduces them to a completely different set of values. And the impact can be profound. "Culture shock can be motivational. Touching an unknown world, children will start to think and find similarities and differences in other cultures." This contact, Atsuko believes, makes her students more curious about what is happening in the world around them. She believes the experiences they have in the Intercultural Mural Exchange of the Art Miles Mural Project will change the children not just by encouraging tolerance but by fostering friendships with their newfound foreign friends. Atsuko believes that real steps toward understanding and peace are being made one mural, one friendship at a time.
"My students have worked with Syria, Egypt and Indonesia and they have obviously grown and have gained confidence through the project. Their remarkable growth is that they have come to think seriously about their future as it relates to society." In short, they gain an appreciation for those around them.
Atsuko sees a future where students aren't just taught what tolerance means, they're taught what tolerance is; what it feels like and how it's achieved. Atsuko sees a peaceful future populated by men and women who care about their fellow human beings - not just those around them, but people from far away, people with sometimes very different sets of values. So she paints... and paints... and paints...
And should the world one day become home to a gentler, more tolerant, more peaceful mankind, it's my guess that each of these men and women of the future will have someone in their past - someone like my hero Atsuko Shiwaku - who sat them down as a child, put a paintbrush in their hand and challenged them to imagine a better world.
Page created on 7/9/2015 3:09:57 PM
Last edited 1/6/2017 8:38:57 PM
Related Links
Japan Art Miles
- JAM is the Japanese arm of Art Miles and spreads the message of Peace and Harmony through art between Japan and many other countries.
Art Miles Mural Project
- AMMP is a colorful and passionate 12 year movement combining the efforts of children and adults worldwide to promote global peace and harmony through mural art.
Extra Info
HOW TO DO THE INTERNATIONAL MURAL EXCHANGE PROGRAM
"At Japan Art Mile, we think that this exchange project should be open to more schools and more teachers and students should enjoy the benefits of international education." - Atsuko Shiwaku