by
David from Fredericksburg
A hero is a person who exhibits bravery that is "above and beyond the call of duty." He is smart, can think fast, exhibits good leadership and is resourceful. Audie Murphy fits perfectly into this category. Audie L. Murphy was born on June 20, 1924 near Kingston, Texas. The man who was to become the most highly decorated US service man in history had a very humble beginning. The son of poor sharecroppers, Audie was one of 12 children, only 9 of whom survived to see their 18th birthday. Since food at times was scarce and the Murphy family didn't make very much money, Audie used to hunt for food to put on the table at home. He became very good shot, a skill which served him well later in life.
Audie was orphaned at the age of 16 and as soon as the US declared war in December of 1941, he immediately tried to enlist, although he was not old enough. He was accepted into the Regular Army after being turned down by the Marines and Army Paratroopers. He signed the papers a few days after his 18th birthday and was sent through Basic Training at Fort Wolters, Texas. He was then attached to the 3rd Infantry Division and shipped to North Africa. After helping mop up the last of the Axis resistance, he and his unit were sent to participate in the Invasion of Sicily. Next was the Invasion of Italy, where Audie distinguished himself as an effective soldier by fighting his way out of an ambush. When he returned he was promoted to Sergeant. He also received a Bronze Star for his actions in Italy. Then the 3rd Infantry Division invaded Southern France on August 15, 1944. Audie's battalion was suckered into an ambush in which a friend of his, Private Lattie Tipton, was killed as he tried to accept some surrendering German troops. Audie decided to avenge Tipton's death by taking a German machine gun and his grenades and destroying the German position and several others nearby. For this action he received a Distinguished Service Cross. Just weeks later, he received 2 Silver Stars for twice saving his patrol from a German ambush. Soon after that, he was given a commission as a 2nd Lieutenant and went back to command the platoon he had served in. He was wounded by a sniper bullet in the hip and spent 3 months recuperating. When he got back, he led his men in the action that earned him the Medal of Honor. Here is the Medal of Honor citation that explains why Audie was awarded the medal: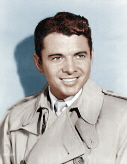 Audie Murphy is a hero by any standard and here is why I think he was, and still is a hero. He was brave, ingenious, a good leader, and he knew what to do in a given situation. He certainly exhibited bravery that was above and beyond the call of duty. This is one of the requirements for earning the Congressional Medal of Honor and Audie L. Murphy was one of only 3,400 American servicemen to win this coveted award in the history of the US military.
Rank and organization: Second Lieutenant, U.S. Army, Company B 1 5th Infantry, 3d Infantry Division. Place and date: Near Holtzwihr France, 26 January 1945. Entered service at: Dallas, Tex. Birth: Hunt County, near Kingston, Tex. G.O. No.. 65, 9 August 1945. Citation 2d Lt. Murphy commanded Company B, which was attacked by 6 tanks and waves of infantry. 2d Lt. Murphy ordered his men to withdraw to prepared positions in a woods, while he remained forward at his command post and continued to give fire directions to the artillery by telephone. Behind him, to his right, 1 of our tank destroyers received a direct hit and began to burn. Its crew withdrew to the woods. 2d Lt. Murphy continued to direct artillery fire which killed large numbers of the advancing enemy infantry. With the enemy tanks abreast of his position, 2d Lt. Murphy climbed on the burning tank destroyer, which was in danger of blowing up at any moment, and employed its .50 caliber machinegun against the enemy. He was alone and exposed to German fire from 3 sides, but his deadly fire killed dozens of Germans and caused their infantry attack to waver. The enemy tanks, losing infantry support, began to fall back. For an hour the Germans tried every available weapon to eliminate 2d Lt. Murphy, but he continued to hold his position and wiped out a squad which was trying to creep up unnoticed on his right flank. Germans reached as close as 10 yards, only to be mowed down by his fire. He received a leg wound, but ignored it and continued the single-handed fight until his ammunition was exhausted. He then made his way to his company, refused medical attention, and organized the company in a counterattack which forced the Germans to withdraw. His directing of artillery fire wiped out many of the enemy; he killed or wounded about 50. 2d Lt. Murphy's indomitable courage and his refusal to give an inch of ground saved his company from possible encirclement and destruction, and enabled it to hold the woods which had been the enemy's objective.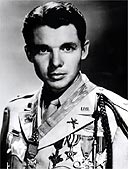 Audie served the rest of the war as a liaison officer and then returned to Texas after the war. He then pursued a career as a film star, starring in his own autobiography, entitled To Hell and Back, in which he played himself. He was killed in a plane crash on May 28, 1971 near Roanoke, Virginia. Audie Murphy was the most decorated American combat soldier of the war. He was awarded every American medal for bravery and several foreign awards. His medals include: the Medal of Honor, Distinguished Service Cross, Silver Star with First Oak Leaf Cluster, Legion of Merit, Bronze Star Medal with "V" Device and First Oak Leaf Cluster, Purple Heart with Second Oak Leaf Cluster, U.S. Army Outstanding Civilian Service Medal, Good Conduct Medal, Distinguished Unit Emblem with First Oak Leaf Cluster, American Campaign Medal, European-African-Middle Eastern Campaign Medal with One Silver Star, Four Bronze Service Stars (representing nine campaigns) and one Bronze Arrowhead (representing assault landing at Sicily and Southern France), World War II Victory Medal, Army of Occupation Medal with Germany Clasp, Armed Forces Reserve Medal, Combat Infantry Badge, Marksman Badge with Rifle Bar, Expert Badge with Bayonet Bar, French Fourragere in Colors of the Croix de Guerre, French Legion of Honor, Grade of Chevalier, French Croix de Guerre With Silver Star, French Croix de Guerre with Palm, Medal of Liberated France and the Belgian Croix de Guerre 1940 Palm. This list of 23 metals is the most diverse set of metals ever worn by a single US soldier ever and, according to the US Army, will never be equaled again.
Page created on 4/15/2003 6:40:17 PM
Last edited 4/15/2003 6:40:17 PM