"Oh what a trip! Fifteen days to reach England! We had 700 horses on board, and 700 seasick horses are not the most congenial steamer company."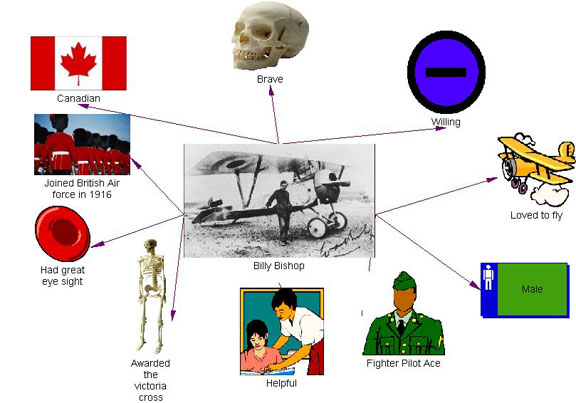 William Avery Bishop was born in Owen Sound Ontario on February 8 1894. He lived there until he was 17 when he joined the Royal Military College of Canada in Kingston, Ontario. William Avery Bishop, who we often call Billy Bishop now, was the second of 3 children born to William A. and Margaret Bishop. Billy�s younger sister�s name was Louie. His father was a lawyer and graduate of Osgoode Hall Law School in Toronto. Billy Bishop did not have very good grades. In fact, he got into fights on the playground. Another thing about him was that he preferred individual sports, like swimming, to team sports, like hockey and lacrosse. He also seemed to enjoy the company of girls to the company of boys. As Billy Bishop grew older, he became good friends with Louie, his younger sister. Louie paid her big brother Billy $5 to take her friends out on dates, which is how he met his future bride Margaret Burden. According to Billy Bishop, it was love at first sight, and although they would later marry each other in 1917, Billy Bishop still charged Louie the $5.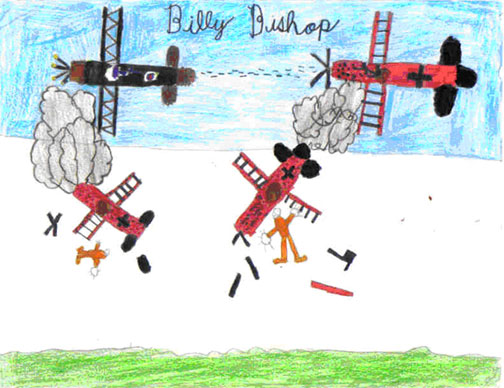 Billy Bishop�s life was amazing because he was such a remarkably great fighter ace. He had shot down 72 enemy aircraft. One of the reasons his life was so admirable, was because he was awarded the Victoria Cross. The Victoria Cross is only awarded to incredible soldiers with the most conspicuous bravery, determination, and skill. In addition to the Victoria Cross, Billy won tons of other medals for bravery; however, no medal you can get is as terrific as the Victoria Cross. In fact he won more medals then any other soldier in all of the British Commonwealth. He is also known as Canada�s most decorated war hero. Sometimes Billy�s will was troubling for him because he always wanted to fly alone.
A helpful thing for Billy was that he had incredible eyesight. He also had a tremendous shot. One thing that Billy could have done differently was that he could have tried as hard as he could and passed his first year in the Royal Military College of Canada, instead of failing his first year, so that when the war was over he could always get a job in a different industry. Luckily he was still able to go to that school and he past his second year with good grades.
Billy made a big mistake on his third year at the Military College of Canada. He was caught cheating on his last exam of the year! That definitely would have got him expelled if World War 1 hadn�t come along. How I would have acted differently, is that I would have tried my hardest to pass in my first year at the Royal Military College of Canada, and in my third year, I would have studied harder so that I wouldn�t have had to use the cheat notes.
I think that Billy Bishop�s life would not be as amazing if he did not have enemies. In his case, those enemies were the Germans and the rest of the world. The German army was the world�s enemy because they started World War 1. Many people died in World War 1, and that is why Billy Bishop became a fighter pilot.
Billy did not start out as a fighter pilot. He actually started out as an officer with the Mississauga Horse (a cavalry regiment). He got mad with the mud of the trenches and lack of action, so he moved to the Royal Flying Corps. That is where he got his wings. After he was able to fly, he shot down many planes, and Billy became a fighter pilot.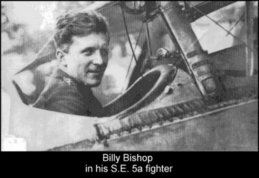 What I think it means to be a hero is to be someone who does incredible things for humanity even if their life, or anything else of great value to them, is in jeopardy. Heroes do such incredible things, not because they want to be recognised, but because they know it is the right thing to do. I think that Billy Bishop truly was a hero because he fought in World War 1 and 2 and battled courageously so others could have peace. I think that a hero is different from a person who is "well known" because a real hero does deeds that sacrifice his or her personal well being for others. A simply well known person is famous because they are talented at things like acting, dancing and singing, which do not require any self sacrifice.
I think that in Billy Bishop�s early years he was inspired by Albert Ball. Albert Ball was the highest ranked fighter pilot in the British Empire. He shot dawn 25 enemy aircraft in April alone!
Billy Bishop spent most of his later life in Montreal. He traveled alot for many reasons, but all were related to flying. Unfortunately, Billy Bishop died in his sleep at his Palm Beach home on September 11th 1956.
The 16 awards that Billy Bishop won are:
� The Victoria Cross
� The Companion of the Order of the Bath
� The Distinguished Service Order with Bar
� The Military Cross
� The Distinguished Flying Cross
� The 1914-1915 Star
� The British War Medal

� The Victory Medal with Mentioned in Dispatches Emblem � The Canadian Volunteer Service Medal
� The 1939-1945 War Medal
� The George V Jubilee Medal
� The George VI Coronation Medal
� The Elizabeth II Coronation Medal
� The Efficiency Decoration
� Chevalier de la L�gion d'Honneur
� The Croix de Guerre avec Palmes
I chose Billy Bishop because I know that he was an incredible fighter pilot and I heard people talking about Canada�s most decorated war hero so I wanted to learn more him.
I have learned that Billy Bishop won exactly 16 war medals! I also learned that not only did he fight in World War 1 but he also took part in World War 2. I also learned that his father was a lawyer, which is a coincidence because my parents are lawyers too.
I had a great time doing this protect and would gladly do it again.
Page created on 3/23/2007 12:00:00 AM
Last edited 3/23/2007 12:00:00 AM