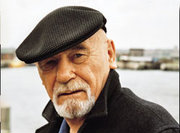 Brian Jacques (pronounced Jakes) was born in Liverpool, England on June 15th, 1939. Like most of the Liverpool community, his ancestors were from Ireland. He grew up near the Liverpool docks. At an early age, he began to have interest for adventure stories, and he read books by authors like Arthur Conan Doyle (Sherlock Holmes), Kenneth Grahame (The Wind in the Willows) and Robert Louis Stevenson (Treasure Island). Mr. Jacques attended St. John's School, and it was here that he was first marked out with the potential to be a great writer. When asked to write a story about animals, he ended up writing a short story about the bird that cleaned a crocodile's teeth. The teacher could not believe that he hadn't copied it from another book, and when he assured her that he hadn't copied it, he was branded as a "liar". Although he always loved to write, it was only then he realized that he had the potential to be a talented writer. Not all of the teachers at St. John's were so disbelieving. Some were good role models, as Mr. Jacques remembers:
"My favourite teacher was Mr. Austin Thomas. He looked like Lee Marvin. Big Man. A Captain in World War II. He came to school on a big push bike with the haversack on back. He was a man's man. Always fair. I was fourteen at the time when Mr. Thomas introduced the class to poetry and Greek literature. (Because of him, I saved seven shillings and sixpence to buy The Iliad and The Odyssey at this dusty used book shop.)"
Brian Jacques left St. John's at the age of 15, and traveled as a merchant seaman for a while. He finally became tired with the life of a sailor, and returned to Liverpool, where he worked as a bus driver, a boxer, a long-distance truck driver, a railway fireman, a longshoreman, a bobby (Police Constable 216D), a stand-up comic, and a postmaster. When the Beatles became a big hit and put the spotlight on Liverpool, Mr. Jacques made a band with his two brothers and six others, which was called The Liverpool Fisherman.
Brian Jacques first began writing when he was around 8 years of age, and still is. Some of his most famous books are the Redwall series, which include Martin the Warrior, Mariel of Redwall, and many more. He has also the author of the Castaways of the Flying Dutchman series, Tribes of Redwall, and several other books. Before he wrote his books, though, he was a playwright. He only wrote 3 plays, Brown Bitter, Wet Nellies, and Scouse. Scouse, for those of you who don't know, is a slang term for someone from around Liverpool, named after a cheap stew that is a working man's diet in Liverpool.
Mr. Jacques first wrote Redwall for the blind children at the Royal Wavertree School for the Blind in Liverpool, and he tried to make it so descriptive that they could imagine and "see" the images that they were hearing. He calls it "painting pictures with words," and anyone who reads the books agrees with that statement. He still remains a patron of the school. When his old English teacher from St. Jhon's, Alan Durband, read the book (Redwall)he thought it was so good that he showed to a publisher without telling the author. This led to a contract for the first five books of the Redwall series, and thus Brian Jacques got started on writing his books. Redwall was never meant to be a book, though. As Mr. Jacques said in an interview:
"I wrote the story as a read-aloud for blind children at a school nearby," he says. "I'd even get dressed up as Father Christmas in me cowboy boots and me big ten gallon hat to do it."
Brian Jacques has always loved children, and always answers each and every one of his letters, adding his own postscript at the end of the letter. Out of all the places in the world, the United States has best received his books.
"Redwall has been better received in the States than anywhere else in the world," he says. "It's captured the imaginations of children so vividly there. And in the States, children approach me with a kind of reverence."
One of Mr. Jacques favorite memories is:
"I was in Illinois doing a festival in St. Charles. I was signing books the night before in a library when this little dot of a fella comes up to me. I said, what's your name lad? He said, 'I'm Josh, sir. And you'll be coming to my school tomorrow.' I said, Josh, that will be very nice. And he replied, 'I am to be your escort.' I said, will you take care of me Josh? And Josh very seriously answered, 'Sir, I will protect you with my life.'"
Brian Jacques was greatly influenced by the effects that World War II had on his childhood life. Bombs dropped daily on Liverpool when The Battle of Britain was taking place, especially in around the dock where he grew up. The reckless, fearless young men of the RAF were the inspiration for the hares of the Long Patrol. The shrews are patterned on Liverpool's dockworkers. Though it was dangerous, they worked to keep the port open every day. The moles were inspired by the people of Somerset, which is found across the Bristol Channel from Cardiff. The Villains of the Redwall stories were based on "unscrupulous seamen" he met in his travels as a sailor. Gnoff the Mousetheif was based on himself in his childhood. Constance the badgermum was his grandmother, and Mariel was his granddaughter. During the war, there was a shortage of food, and he would sit reading his mother's "cookery books". This inspired the great Redwall feasts, which were told in so much detail.
He now hosts his own show, called Jakestown, on the BBC Radio Merseyside on 95.8 in Liverpool.
Mr. Jacques has two brothers, (both which moved to New Zealand) Tony and Jimmy. Tony used to be a carpenter until he passed away in 1998, and Jimmy is a prison officer in Lancaster after returning to Britain.
Brian Jacques has two grown sons, Marc (32) and David (34). Marc is a bricklayer, carpenter, (like Tony) and builder. David is a Muralist and also a Professor of Art. Marc also plays the voice of Matthias in the Redwall Radio Play. He dedicated his Redwall picture book, called The Great Redwall Feast, to his granddaughter, whose name is Jade. Mariel of Redwall was written to honor her as well. He has a West Highland Terrier, named "Teddy," and enjoys reading books by authors P.G. Wodehouse, Damon Runyon, and Maria Puzo to list a few. He prefers not to read children's books, as they might influence his writing.
Page created on 4/30/2007 12:00:00 AM
Last edited 4/30/2007 12:00:00 AM