Benito Juarez
by
Alexis from Lincoln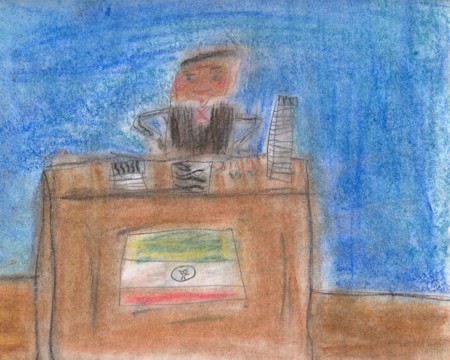 Have you ever heard of Benito Juarez? NO!!! I'll tell you about him. On March 21, 1806, Benito Pablo Juarez was born in San Pablo Gualtao, Mexico. His early life was hard. Benito's mother had died giving birth to another child. His father had died carrying a wheelbarrow of fruit because he had walked 40 miles up and back from a mountain. Benito and his two sisters moved in with their grandparents, who later died in a fire. His oldest sister moved to a nearby town, and his other sister moved and got married. Benito moved in with his uncle. They both dreamed of a better life for Benito and a better job. I came to the conclusion that Benito was a dreamer. One day someone told Benito that a mule driver had taken one of his uncle's sheep. Ashamed that he had not prevented this, Benito ran away, to Oaxaca. There he was going to find his sister. His sister found him a home. Benito moved in with Don Antonio Maza, Don Maza sent Benito to school to learn Spanish. In Mexico, in order to have a high ranking job, Benito would have to learn Spanish. He only spoke the language of the Oaxaca tribe.

Benito didn't know what he wanted to be when he grew up but he did know that he wanted to make a difference. Benito Juarez had a lot of things that had helped him. For instance, Benito could now speak two languages. He was educated too. He also had things that helped him prepare for his future. For example, he saw and understood the cruelty of the justice system in Mexico.
Later in his life, he had been exiled from Mexico and sent to America. While exiled he worked in New Orleans. When allowed to go back to Mexico Benito became a lawyer in 1835. Then a judge in 1842 and the Governor of Oaxaca in 1847. After that, he became the minister of justice. Later when Bonito was minister of justice, he was arrested for no crime. When he got out of jail he was elected president of Mexico. While president Benito became good friends with Abraham Lincoln.
During his presidency, Benito's doctor ordered him to bed because had a heart attack. But he worked secretly until he died on July 18, 1872. He inspired me by, doing good deeds. I think the most impressive thing him, was that he was reelected president. I wrote about this person because he was honest, good and a true man of Mexico. I think his soul will live on in Mexico forever!
Page created on 5/28/2007 12:00:00 AM
Last edited 5/28/2007 12:00:00 AM
The beliefs, viewpoints and opinions expressed in this hero submission on the website are those of the author and do not necessarily reflect the beliefs, viewpoints and opinions of The MY HERO Project and its staff.