Bob Fosse was a famous dancer who inspired many people in the dance world back then, and today. He inspired many people to just be themselves when they dance and not worry about what other people think about themselves.

Bob Fosse was born June 23 of 1927 in Chicago, IL. Bob was born into theater. Both of his parents had shows on Broadway and were very successful. At the age of thirteen, he started performing in his own show called "The Riff Brothers." At the age of fifteen, he choreographed a Cabaret show, his very first, which was very risqué for this time frame. This signature style became a huge part of his choreography. After many years of acting classes, Fosse moved on to Broadway and performed in "Call me Mister" in 1948. After a role in "Call me Mister", he soon went to go perform, with an even bigger role in "Dance me a Song". Fosse soon went to Hollywood to be in films, which included a role in "Kiss me Kate". Fosse had a huge break in choreographing 'The Pajama Game' in 1954 and also for 'Steam Heat'. After a while in Hollywood, Bob headed back to Broadway to continue his career. He slowly started getting more and more work and building his name on Broadway. His style included very isolated movements such as just moving an eyebrow or a finger at one time. Everything he did was simple but yet very powerful in the way he would put it in with staging and performance. In any Fosse routine will most definitely contain: a tipped hat, net stockings and cigarettes.
Bob Fosse ended up pairing with a lady by the name of Gwen Verdon, who had a role in 'Damn Yankees', but in "Whatever Lola Wants, Lola Gets", the role was infamous from 'Damn Yankees'. Bob thought she was good and started casting her in many leading roles, such as: "New Girl in Town" and "Redhead". Many of Bob Fosse's Broadway hits were set to hit TV, while soaring in films. Bob Fosse was choreographing and directing many shows such as: 'Cabaret', 'Chicago', 'Sweet Charity', and 'Dancin'.
He also had some disasters throughout his life, as many people do. One of them was getting a divorce from his wife after being married to her for a long time and casting her in many lead roles. Another was, right after getting a divorce from his wife, he had a heart attack while working on 'Chicago'. His soon to be ex-wife continued to work professionally until they got a divorce, and had the leading role in 'Chicago'. Bob Fosse also had trouble with getting jobs because casting directors didn't enjoy his interesting and intricate style that he had and brought to the world to become a famous style of dance known as the "Fosse Style". He would always stand up for himself and say that it was pointless why he didn't get the job, just because he had a different style. Bob died at age 60 on September 23rd of 1987, which was just moments before the showing of 'Sweet Charity'. Later in the future, his life was put into a movie entitled "All That Jazz" which is a number in "Chicago". Some of his hits on Broadway were recreated into a long running show entitled "Fosse", which as a fact will never die.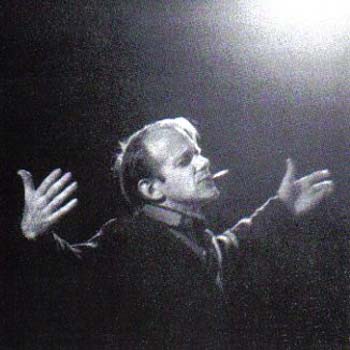 Bob Fosse has influenced many dancers around the world, without a question. Bob Fosse has a very intricate, different, and difficult but very interesting style that makes a dancer have to think and really pay attention in order to understand it and be able to do it. He has inspired me to not care what other people think about me when I am dancing or from what other people say. Bob was declined from many jobs because of his style and the way he danced. Fosse also helped me realize that if you don't get the job, or company that you want, that it's okay and it's their loss, not yours. He was a good portrayer of saying that it is okay to be different and there is a chance for you to be anything you want if you just get out there and are always auditioning, talking classes, new and familiar, and being very outgoing. Bob Fosse always knew how to be a positive influence by having a positive mind. He may have been hard, but he was a good influence.
Therefore, Bob Fosse has inspired many, and taught many people how to dance his way. He could take a movement and turn it into something extraordinary. Bob was a good person and did inspire many people to not care what other people think about themselves today but also back then.
Page created on 11/3/2009 12:00:00 AM
Last edited 1/4/2017 9:28:08 PM