Bill Gates
by
Olav from San Diego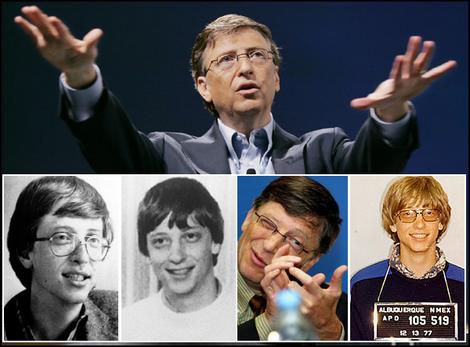 "What this power is I cannot say; all I know is that it exists and it becomes available only when a man is in that state of mind in which he knows exactly what he wants and is fully determined not to quit until he finds it."(Alexander Graham Bell). This is what describes Bill Gates the best, his sheer determination to get to where he wants to be because without determination you won't get anywhere. Gates born in October 1957 was a genius right from the start. Right from his first computer experience in 7th grade Gates excelled in all aspects of academics and was an active member of the community. Gates attended Harvard University with a near perfect score on the SAT. His expectations at Harvard were to become a lawyer but little did he know he would become one of the most successful and inspiring people in the world. Gates and his friend Paul Allen started Microsoft in 1975. Even with a bumpy beginning there company became one of the most successful in the world. During the 1990's he established himself as a philanthropist donating large sums of his wealth to the far corners of the world to help the poor. Gates even started his own charity the Bill and Melinda Gates Foundation. Their foundation has done much good over the years helping aid efforts in Africa and even giving grants to find cures for cancer. Although many people think Gates is just the "richest man in the world". He is much more than that. He is an inspiration not just for being the "father of the computer" but also for all the good he has done with his charity. What makes Bill Gates a hero is not that he became the richest man in the world, it's what he did with is unimaginable wealth that is what makes him a hero.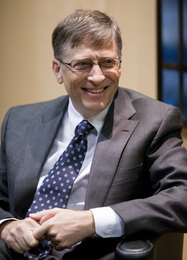 Bill Gates was one of the richest men in the world but instead of spending his immense wealth he created his own charity helping the poor all over the world trying to make the world a better place for everyone while still inspiring others every day. Even though Gates is a businessman he has committed to charity work helping poor people all over the world: "Beside from being the most famous businessman of the late 1990s, Gates also has distinguished himself as a philanthropist (someone working for charity).... he has donated $4 billion since its start in 1996."(Gale Reference Library) Gates built up his empire from scratch in the 1970s and since then he has made Billions of dollars but instead of spending this money he donates most of it to charity, these are the workings of a hero giving to those in need and inspiring others to do the same. Right after Gates' mother, Mary Maxwell Gates, died in 1994 he felt like he had to give something back to the world because of all his success. Gates is so immensely dedicated to his philanthropist work he started his own organization: "Gates and his wife established the William H. Gates Foundation which was dedicated to supporting education, world health, and investment in low-income communities."(A&E). Gates started his own organization dedicated to helping those in need not only in the United States but all over the world. The foundation has also offered grants to many young bright scientists. This shows how Gates is looking toward the future, helping future generations, by offering grants with his money instead of keeping it. The result of all of his philanthropist work is he has made the world a better place.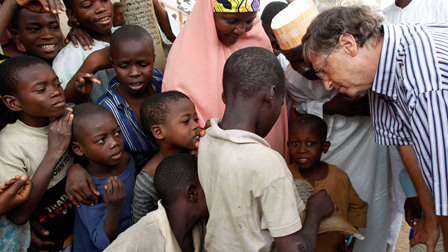 Bill Gates is one of the most inspiring people in the world with his speeches and philanthropic work that inspires others. Due to all of his philanthropic work he has been given several awards on his inspiring work: "Time magazine named Gates one of the most influential people of the 20th century. In 2006, Gates and his wife were awarded the Order of the Aztec Eagle by the Mexican government for their philanthropic work throughout the world in the areas of health and education" (Gale reference library). Gates with all his charity work has inspired others to do the same, both Gates and His wife, Melinda Gates, have been given multiple awards which proves how inspiring one person can be. Gates was inspired by his mother's death to start giving his fortune to charity but now he has started inspiring others: "If you give people tools, [and they use] their natural ability and their curiosity, they will develop things in ways that will surprise you very much beyond what you might have expected."(Bill Gates). This quote by Bill Gates shows how much he believes in people and how much he thinks people can get things done if they are inspired properly. Gates is a very inspiring figure and instead of using this to take advantage of people he uses it to bring the best out of people when all they need is a little push to be at their best. With all his charity work Gates has become one of the most inspiring and powerful people in the world; everyday he inspires people to do the same great things.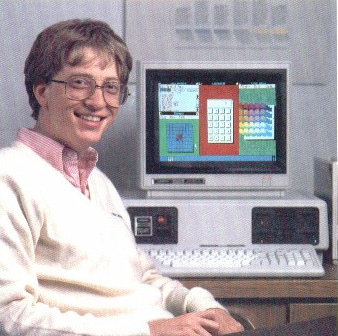 Even though Gates did become the richest man in the world, that is not what matters. His determination and good will is what's an inspiration to people. Even though Gates might have started out weak he has grown to become the most successful business man in the world. The only way he got to that point is his sheer determination and mindset that he can succeed. Even though he had earned so much wealth he gave it all away to charities, helping people all around the globe trying to make the world a better place for everyone. Gates inspires people because he demonstrates that all you need to get anywhere is just determination and hard work. He has given billions of dollars to charities. Even though Gates will always be known as "the richest man in the world" he will truly be known as an inspiration and a true hero.
Works Cited

A&E Television Networks. "Bill Gates Biography ." Biography . N.p., 2010 . Web. 16 Dec. 2010. .

B., Laura. "Biill Gates ." Gale Virtual reference Library . N.p., Nov. 2010. Web. 16 Dec. 2010. .

Gale Student Resource. "William H. Gates." Gale Student Resources . N.p., Dec. 2010. Web. 16 Dec. 2010. .

News makers. "Bill Gates ." Gale Student Center Gold . N.p., n.d. Web. Dec. 2010. .
Page created on 1/21/2011 12:00:00 AM
Last edited 1/21/2011 12:00:00 AM
The beliefs, viewpoints and opinions expressed in this hero submission on the website are those of the author and do not necessarily reflect the beliefs, viewpoints and opinions of The MY HERO Project and its staff.

Extra Info
I learned some information about this hero on his website the Bill and Melinda Gates Foundation.