Bill Gates: Most Successful Man to Walk on Earth
"To laugh often and much; to win the respect of intelligent people and the affection of children; to earn the appreciation of honest critics and endure the betrayal of false friends; to appreciate beauty, to find the best in others; to leave the world a bit better, whether by a healthy child, a garden patch or a redeemed social condition; to know even one life has breathed easier because you have lived. This is to have succeeded" (Ralph Waldo Emerson). This describes my hero, Bill Gates. He is a humble man who works hard to succeed and make something of himself in the world of computers. He is very successful but believes in giving to the less fortunate. This makes him my hero. William Gates and Mary Gates gave birth to Bill Gates in Seattle, Washington on October 28, 1955. Gates attended Lakeside School, where he first learned about computers. After Gates graduated from Lakeside, he attended Harvard, where he studied pre-law. It was two years later when he realized that wasn't his career path. Not only is he the richest man in the world but he cares for others so much that with his profits, he created a foundation to help others. Bill Gates not only is an accomplished person, he cares for others by creating his foundation and therefore, he is my hero.
Gates is an accomplished man. He has done several major things in his life which makes him the richest man on earth. Allen, Gates close friend has contributed to the software made by Gates. "For example, they worked at Computer Center Corporation (CCC) and gained more computer experience; they opened their first company, TRAF-O-DATA in the fall of 1971, which specialized in monitoring and analyzing traffic statistics in cities and countries"("Bill Gates"). Through hard work and determination, he has accomplished many things and continues to be very successful. When he was young, Gates and Allen slowly worked their way up and ended up creating successful software. Later in his life he and Allen decided to take a bigger step into the computer world and they completed major software. "Gates' first major accomplishment took place in 1975 when, with the help of Allen, he wrote the first versatile software program, Altair BASIC, that became the industry standard" ("Bill Gates"). Gates and Allen worked hard to make a name of themselves in the world of computers. They accomplished many things which led Gates and Allen to start creating Microsoft. "The following year, 1976, he dropped out of Harvard and made his third accomplishment, which was building Microsoft" ("Bill Gates"). After Gates and Allen wrote their first software, they found it was very successful. Although Gates didn't finish College, he strives to continue working until he succeeded with his computer software. The development of Microsoft is one of his greatest accomplishments. He never gives up and always endeavors for more. This is what makes him the wealthiest man in the world.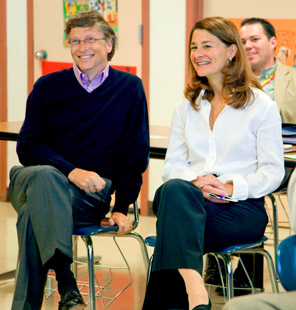 Even though Gates is very successful, he is very humble and cares for many people. He created a foundation to help others in need and donated some of his profits to help. He shares his foundation with Melinda Gates and they work together, still improving it. The foundation is located, "In the United States, it seeks to ensure that all people--especially those with the fewest resources--have access to the opportunities they need to succeed in school and life. Based in Seattle, Washington, the foundation is led by CEO Jeff Raikes and Co-chair William H. Gates Sr., under the direction of Bill and Melinda Gates and Warren Buffett" ("The Bill & Melinda...).
Gates believes in everyone having an equal chance at success, regardless of how rich or poor one is. He continues to donate his profits to the less fortunate providing them with a better education.
Gates and Melinda's foundation is still very successful and it provides for people in several different ways such as, "Guided by the belief that every life has equal value, the Bill & Melinda Gates Foundation works to help all people lead healthy, productive lives. In developing countries, it focuses on improving people's health and giving them the chance to lift themselves out of hunger and extreme poverty" ("The Bill & Melinda...). Gates foundation allows everyone to have an equal chance at a stable life. He believes in giving to others because he is so efficacious. Gates and his partner Melinda are both determined to make an impact and change the ways of life, which is why they organized the foundation. As they say, "We're both optimists. We believe by doing these things--focusing on a few big goals and working with our partners on innovative solutions--we can help every person get the chance to live a healthy, productive life" ("The Bill & Melinda...). Gates not only cares about his wealth but he also cares for others success and stability. His foundation to help others live a healthy life shows that with his success and money, he wants to make a difference. Even though Bill Gates is an extremely successful person, he still cares for others and donates his profits to his foundation. Not only does his success benefit him, it benefits many others.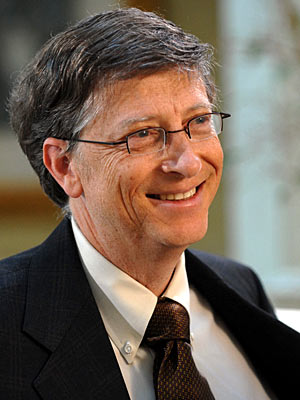 Even though Bill Gates is very successful, he is also a giving person which makes him my hero. Gates accomplished many things in his life including the creation of Microsoft. This makes him the richest man on earth. With his profits, he created a foundation to help the less fortunate receive an equal education and enjoy life as everyone else does. Gates cares for everyone and believes in a better environment for others, including the less fortunate. Gates should inspire all who are successful to make a difference by changing the world and caring for everyone. He believes everyone deserves an equal chance to be where he is. Because of that, he is my hero. Being successful not only means to have money, but it's to change others and make a difference in the world.
 
Works Cited
"Bill Gates: Before Microsoft." CS Dept. NSF-Supported Education Infrastructure Project /
Ei.cs.vt.edu. 29 Sept. 1996. Web. 03 May 2012. .
"Bill Gates." Bill Gates (Biography Today) (2010): 1. Biography Reference Center. Web. 3 May 2012.
            "Bill Gates." Bill Gates. Viking Penguin, 1995. Web. 09 May 2012.
                         .
"Bill Gates." Business Leader Profiles for Students. Ed. Sheila Dow and Jaime E. Noce. Vol. 2.
Detroit: Gale, 2002. Gale Biography In Context. Web. 30 Apr. 2012.
"Bill Gates - Global Entrepreneur." - OpenLearn. Web. 17 May 2012.
.
"Microsoft Says Bye-bye to Bill Gates." Stuff.co.nz. 2012. Web. 16 May 2012.
.
"The Bill Gates Interview." The Bill Gates Interview. Copyright Playboy Enterprises Inc, 1994.
 Web. 09 May 2012. .
"The Bill & Melinda Gates Foundation." The Bill & Melinda Gates Foundation. 2012. Web. 08
 May 2012. .
Page created on 5/18/2012 12:00:00 AM
Last edited 5/18/2012 12:00:00 AM