Bill Gates
by
Amir Sarrafian from san diego
There is a very diverse criteria as to what traits a hero may have or as to who is considered as a hero. I believe many people can could be considered as a hero for different reasons, but I believe Bill Gates is one of the best examples of a hero. Bill Gates was the co-founder and CEO of Microsoft and has been the richest man alive for multiple years. To me, a hero must have the qualities of selflessness and self-drive/motivation. Bill Gates is both selfless and self-motivating behaviors, therefore is a hero.
Bill Gates proves his hero-like qualities by presenting his selfless trait through donations to charities and funds for research. According to Gale Biography in context, "The Gates Foundation has committed $1.7 billion to agricultural development. The foundation takes a comprehensive approach to supporting small farmers so progress against hunger and poverty is sustainable for the economy and the environment." ("PRNewswire" Gale Biography in Context). Bill Gates gives back to the community in a different kinds of way. Displaying the heroic trait of selflessness, Gates gives back to the less fortunate on his own will. Gates does not only help supply funds for more "mission-like" charities, but he also donates into research for cures. In July, Gates published that his foundation would donate $287 million to 16 groups of scientists to fund research into a vaccine against HIV. And in September of 2006, the Foundation donated $150 million to improve farming in Africa. The foundation plans to partner with the Rockefeller Foundation to create the Alliance for a Green Revolution in Africa, which will work to "dramatically increase" ("Bill Gates." Contemporary Heroes and Heroines). Bill Gates chose to donate to research facilities in order to support an end to certain diseases, credited towards his curiosity in more "uncharted" areas. This also displays Bill Gates selflessness and gives more credit to his heroic traits. As Bill Gates continues to fund a variety of research and charities, he is proven to have selfless actions in which most heroes have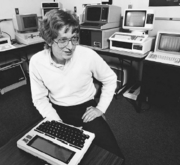 I also believe that a hero has a self-motivating trait. Gates built Microsoft "Microsoft Corporation is the largest software developer in the United States. The company's software, which includes operating systems, server applications, and its popular Office suite of products" ("Gale Encyclopedia of U.S. Economic History"Gale Biography in Context). Bill Gates did not have much assistance or help starting Microsoft, yet still pushed himself to achieve his goal. Regardless of having barely any support, Bill Gates was self-driven to make his nearly impossible dream come to life. In the technology boom,
In being both selfless and self-motivating and showing through his success, Bill Gates has shown he is a hero. His constant selfless actions towards charities and his single-handed success helps show and prove how heroic he is. Bill Gates inspires me to reach my goals such as giving towards others and motivating myself even when no one else will.
Page created on 7/15/2016 12:00:00 AM
Last edited 7/15/2016 12:00:00 AM
The beliefs, viewpoints and opinions expressed in this hero submission on the website are those of the author and do not necessarily reflect the beliefs, viewpoints and opinions of The MY HERO Project and its staff.