Bill Gates
by
Pedram from San Diego
When you think of desktop computers, it's hard not to think of Bill Gates - one of the most iconic figures in the world of technology. He wrote his first program when he was thirteen, co-founded the greatest software company in 1975, became the youngest billionaire at age 31, and has continued with many other great accomplishments since then. Forbes magazine has ranked Bill Gates as the richest man in the world for the past fifteen years. But it is not his success in making money that makes him a hero; it is the hope he brings to people.
Bill Gates' commitment to education has been acknowledged throughout the country and even the world. "In 1999 the Bill and Melinda Gates Foundation made their first (Private) donation of one billion dollars towards education. The money went toward a scholarship fund for more than one thousand high school minority students to cover all their educational expenses" (Gale Encyclopedia of U.S. Economic History). This donation has changed not only the lives of many high school students, by giving them a chance for a brighter future, but also has contributed to the future of our country. More high school graduates raise the chance of more college graduates and a better life for many people. "In the last decade he has traveled throughout the country supplying less affluent schools with computers" (Gates Foundation). This has given many schools the opportunity to provide up-to-date technology to their students and ensure they are better prepared for the future. Enhancing the schools with technology encourages students to try harder and achieve higher. Bill Gates continues to influence the future of our country by providing better education for underprivileged schools.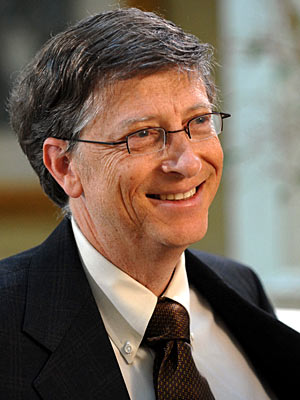 Bill Gates' dedication to help prevent many different infections and diseases has sparked hope in many countries in poverty. "The Bill and Melinda Gates Foundation has pledged over ten billion dollars that will go towards vaccine research over the next decade" (ABC News). This should help eliminate many different diseases and infections such as malaria, AIDS, tuberculosis, and many others. This will result in more people living a healthier life. "Bill Gates frequently travels to Africa to ensure the donations are put to work in the best possible way" (Gates Foundation). These trips give Bill the opportunity to see both; the problems first hand, and the improvements that the donations are resulting. Bill Gates' donations have supplied many scientists with jobs and caused many scientific discoveries.
Bill Gates inspires people around the world in many ways; he is a technology icon in the computer world, he is a role model for many entrepreneur, he is a big supporter of education, and has been considered a lifesaver.
Page created on 2/26/2010 9:08:27 AM
Last edited 2/26/2010 9:08:27 AM
The beliefs, viewpoints and opinions expressed in this hero submission on the website are those of the author and do not necessarily reflect the beliefs, viewpoints and opinions of The MY HERO Project and its staff.
Related Links
Gates Foundation
- A foundation that brings hope to many countries in poverty.
Microsoft
- Company news, Software products, computers, laptops ect.
The Gates Notes
- Where Bill Gates shares his thoughts on his foundation and other things.