Billy Greer
by
AJ from Fredericksburg
"Never Be Satisfied"
Have you ever had that one person in your life that you felt that you couldn't live without? That one who always made your day better, or helped you get through things that no one else could. Have you ever had a person in your life that you felt was just different from everybody else? Well that person for me was William J. Greer. Coach Billy, as he was known to all the kids, was a hero to everybody that he met. He was the type of person that could make your day, even if you didn't know him. Coach Billy was extremely active in the community, coaching teams in multiple sports for almost 20 years, and even starting his own non-profit basketball camp in 2004. That is what a hero is to me.
I met Coach Billy when I was in pre-kindergarten. That is when I moved to Fredericksburg with my family. We were neighbors and every day we (Coach Billy, his son Ryan, and I) would go outside and play football or basketball. Ryan was my best friend when I first moved in and so we saw each other almost every day. Coach Billy had that aura around him that made everybody want to be his friend. I don't think I know of anyone who didn't enjoy having Coach Billy around. One thing I will always remember about Coach Billy was his memorable quotes. After he decided to start a camp, he had an idea to put an inspirational quote on the back of the camp shirts. Two of his favorite quotes were "Success only comes before work in the dictionary" and "Never be Satisfied". This exemplifies the type of person that Coach Billy was, because even though something went right for him, he was always pushing to get better. On all of his teams, most of which went undefeated, he strived to get the point across that you have to work hard for everything that you get. He found a way to have the hardest practices, but somehow also make them the most fun. He was the type of coach who made you better just by being there because you always wanted to do that much better for Coach Billy.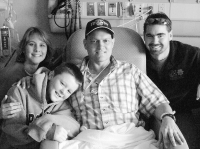 In early 2006 Coach Billy started to have pain in his hip. When he found out that it wasn't a muscle pull or some other sports-related injury, people started to become worried. Then, they found out that it was osteosarcoma. This is a type of cancer that develops in bone tissue. This discovery was devastating because I always pictured Coach Billy being invincible and now I found out that he could die? This news was even more devastating because it meant that he wouldn't be home every day. Because of his cancer, he had to undergo numerous chemotherapy treatments at Johns Hopkins University Hospital. Four years ago, he had a tumor removed from his hip, and obviously the pain was almost unbearable. Somehow, he was able to not only bear it, but to keep the same attitude on life that he had before. He still was able to make it to some of our basketball practices, his summer camp stayed alive, and even kept growing. After a while, I started to believe that maybe he was invincible. If cancer couldn't conquer him, then what would? But of course, no one is invincible and eventually things took a turn for the worse. Coach Billy died on March ninth, 2008. I think that his last words, "What about you guys?" sum up the kind of person that he was, someone who was always thinking about others, and put others before him. At his memorial service, he had honorary pallbearers who were his old and former players, and there were too many of them to count. That is just part of the number of kids whose lives he changed. Even after he passed away, Coach Billy was the reason for this wonderful site because he was the one who touched the lives of so many people.
After two and a half years without Coach Billy, my life is completely different. But, his values and teachings are still a huge part of me today. He instilled values both on and off the playing field that are life-long lessons that will stay with me until the day I die. I hope to be able to touch half as many lives as Coach Billy did, because that would mean that I fulfilled what he wanted for not only me, but everybody he met. Some days he, his son and I would sit around and just think of things that we could do to help others. Of course back then it was Coach Billy's idea, but now helping others is something that isn't foreign to me. Coach Billy was like a father to me and even though he is not here anymore, his presence is still felt every single day. That is what makes a hero to me.
Page created on 12/12/2010 12:00:00 AM
Last edited 12/12/2010 12:00:00 AM
The beliefs, viewpoints and opinions expressed in this hero submission on the website are those of the author and do not necessarily reflect the beliefs, viewpoints and opinions of The MY HERO Project and its staff.