Braden Hofen
by
Matt from Kansas
Fighting to the End
"Every great dream begins with a dreamer. Always remember, you have within you the strength, the patience, and the passion to reach for the stars to change the world"-Harriot Tubman
This is a story of a young boy who can teach all of us the true meaning of hope. On December 28, at 3 years 3 months of age a young boy by the name of Braden was diagnosed with level 4 neuroblastoma. This is a rare cancer that only leaves only 30% chance of survival. Still at the age of 5 he is continuing to fight this evil enemy.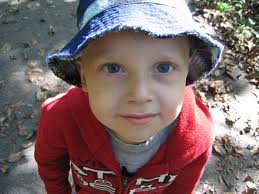 In my opinion this child is an inspiration to everyone he meets. My point here is that seeing a young boy with his perseverance has given me and many other people so much hope. I have a small connection with Braden's family because his mother Deliece Hofen was once my elementary school principal. Braden on his own hasn't just inspired millions, but his whole family has too. Unfortunately, his mother was recently diagnosed with breast cancer, but luckily she is just as strong as Braden and continues to fight just like him. In some ways I think of them to be stronger than Olympic athletes, because I can't imagine how hard it would be to wake up each morning, not knowing if your son would live or die. It would feel like you were lifting a 1000 pound weight every second of the day. That's why I think they are true heroes. A hero is someone who will never give up until the end, until their problem is gone, until the enemy is vanquished. Just a few months ago I went to a fundraiser for Braden, and I was amazed how many people attended. It just shows how much people really care. Even more amazing was how many businesses sponsored and donated their supplies, and time. In this decade people are mainly concerned about their own money or how there isn't enough money for everyone else. The story of Braden and his family shows no matter how rich or poor you are, you can donate your time. From what I saw that very day, it's a miracle for that one young boy like Braden can open the hearts of millions of people.
In honor of Braden Hofen who will continue
Fighting to the End.
By: Matt Romero
Thank you to childrensmercy.org/images/MyStory/PDFs/BradensStory.pdf
For providing me with extra information on this young hero.
Page created on 9/23/2010 12:00:00 AM
Last edited 9/23/2010 12:00:00 AM
The beliefs, viewpoints and opinions expressed in this hero submission on the website are those of the author and do not necessarily reflect the beliefs, viewpoints and opinions of The MY HERO Project and its staff.