Bernardo Houssay (español)
by
Nicolas de Buenos Aires

from

Los Angeles, California in United States

El Dr. Bernardo Houssay de Argentina descubrió el rol de las hipófisis en la regulación del azúcar en la sangre.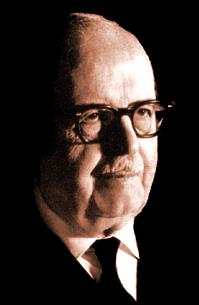 Bernardo Houssayunknown (uploader Claudio Elias) / Public domain
Bernardo Houssay es uno de los más grandes científicos en la historia de argentina y es considerado el padre de la fisiología en Argentina. Él nació el diez de abril de 1887 en Buenos Aires, en una casa cerca de la casa del gobierno. Sus padres y sus otros tres hermanos eran franceses. Después, su familia se mudo varias veces hasta que se establecieron en una pequeña casa en Lanús, el cual es una localidad al sur de la Provincia de Buenos Aires. Él aprendió a leer a una temprana edad, disfrutando la biblioteca de su padre, la cual incluía todo tipos de libros desde cuentos de Verne hasta los reportes épicos de Napoleón. Después, se sintió atraído por la teología y quiso convertirse en un sacerdote, pero afortunadamente cambió de opinión y decidió ser ingeniero igual a su abuelo paterno.
En 1900, él se graduó del Colegio Nacional a la edad de 13 con un récord distinguido. Debido a sus absolutamente grandes habilidades y su prodigiosa memoria, sus padres pensaron que él sería un buen hombre de negocios, pero él decidió continuar con sus estudios. Sin embargo, por su edad (tenía 14 años), no pudo empezar a estudiar medicina por lo que estudió farmacología.
Ese fue su despegue, pero su mérito principal fue un ensayo sobre acción pituitaria del lóbulo anterior en la distribución de la glucosa en el cuerpo, por el cual recibió un Premio Nobel. Él inspiró a otro doctor argentino, Luis Leloir, quien continuó este trabajo y obtuvo su propio Premio Nobel en 1970.
Sin embargo, debido a su difícil relación con el gobierno militar, él fue despedido de su posición en la Facultad de Medicina gubernamental por haber firmado una petición pidiendo el regreso del gobierno democrático. Él, junto con muchos científicos de gran transcendencia como Luis Leloir, Eduardo Braun-Menéndez, Oscar Orías, Juan T. Lewis y Virgilio G. Foglia, fundaron su propio instituto privado llamado el IByME CONICET (Instituto de Biología y Medicina Experimental).
Yo creo que este hombre es un héroe no solo por su éxito como científico, pero por lo mucho que él amaba su país y por las muchas cosas que él hizo para apoyar el desarrollo científico: él fundó el CONICET y otros institutos de investigación, los cuales eran reconocidos internacionalmente por sus trabajos. Él ayudó en el desarrollo de armas no letales, peleó en contra de el gobierno militar y, sobre todas las cosas, tenía una sólida ética, las cuales atestiguaban por un desarrollo sostenible de medicina y eran las claves de su éxito.
Page created on 8/7/2014 3:48:11 PM
Last edited 4/10/2020 7:01:03 PM
The beliefs, viewpoints and opinions expressed in this hero submission on the website are those of the author and do not necessarily reflect the beliefs, viewpoints and opinions of The MY HERO Project and its staff.