by
Rustin from Mission Viejo
"We're addicted to rehab. It doesn't even work."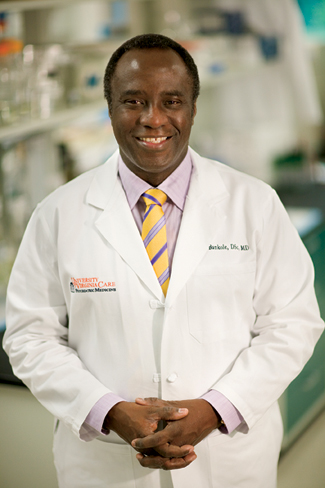 Have you ever thought about the people who take countless number of hours into researching and finding ways to stop alcoholic addiction? Many researchers are unable to find ways to stop these wrong doings, but the ones who do stand out, are the ones who are consistently making the world a better and safer place. One of these great people goes by the name of Bankole A. Johnson. Johnson works as the Professor and Chairman for the Department of Psychiatry at the University of Maryland and at the University of Texas Health Sciences by making strides to help stop alcoholic addiction. I was first introduced to Johnson when I watched the HBO documentary "Addiction," (2012) which was based on the research of many professors in the field of neurobehavioral sciences and predominantly Johnson's work. After watching the documentary, I did some research upon him and found out that he was in fact listed in "Best Doctors of America" for three years; 2007, 2009-2010. Not only are the tasks that Johnson performs extremely contributes to modern society, but it inspires a Freshman Capistrano Unified School District student to pursue the career which is becoming a licensed physician and researching ways to stop alcoholic addiction. Contributing to the world by finding ways to cease the over usage of alcohol influences me to pursue this career.
The grueling job of a physician includes diagnosing and treating patients who have illnesses, injuries and life threatening diseases. However, achieving the title of a physician is not an easy task that you can just sail across a smooth sea of dreams. The education that is required for becoming a licensed physician includes 4 years of undergraduate school, 4 years of medical school, and 3-8 years at an internship or a residency course. Though the job takes an excruciating amount of effort and hard work, it is exceedingly awarding in the field of salary and future outlooks. "According to the Occupational Outlook Handbook website, the median pay of a physician can range anywhere from $150,000 to $350,000. The average pay for this job is usually $235,765 and with the effort and intelligence that is required for it, each physician earns every single penny of his/her job. The engagement of a physician is expected to grow to up to 25% from the year of 2010 to 2022. As stated by Wikipedia, a physician is a professional who practices medicine, which is concerned with promoting, maintaining or restoring human health through the study, diagnosis, and treatment of disease, injury, and other physical and mental impairments. A psychiatrist is a medical practitioner specializing in the diagnosis and treatment of mental illness. Careers that are related to physicians include; biological technicians, radiologists, anesthesiologists, and especially surgeons.
As a young boy in Nigeria, Johnson was always determined to find ways to contribute to knowledge about alcohol addiction. Johnson endured a total of 16 years of schooling and graduating from prestige Universities such as Lagos in Nigeria, Sussex in England, and even Glasgow in Scotland. He carried on with his schooling and graduated with a Master of Philosophy degree in neuropsychiatry in 1991. During the stretch on 1993 to 1998, Johnson joined the University of Texas Health Science Center, in the Alcohol and Drug Addiction in the Department of Psychiatry. According to University of Maryland School of Medicine, Johnson's work was highly appreciated and well recognized, hence earning his honors and awards such as; Inducted in the Texas Hall of Fame for Science, American Psychiatric Association Distinguished Psychiatrist Lecturer Award in 2006, Being listed in "Best Doctors in America" from 2007, 2009-2010, Winning the Solomon Carter Fuller Award in 2009, and even winning the Jack Mendelson Award in 2013. He is currently researching clinical trials and human laboratory studies, identifying the site-specific effects of abused drugs and escalating the effectiveness of potential medications for the treatment of addiction.
Johnson is consistently helping alcohol abusers and drug addicts daily by conducting studies, writing journals, and running clinics.As specified by the Washington Post, on August 8, 2010 Johnson wrote, "We're addicted to rehab. It doesn't even work.", targeting the famous Hollywood Actress Lindsay Lohan and how she is paying up to $48,000 month, while any other alcoholic is averaging a typical 28-day stay at $50,000 all for nothing. Johnson goes on to state how almost all patients who undergo the dreadful process of rehab don't even recover and instead go back to their booze and drugs. According to UTHSCSA, Pedro Ruiz, Professor and Vice Chair of Department of Psychiatry at the University of Texas Health Science Center at Houston, went on to say, "Without question, Dr. Johnson's clinical research team at The University of Texas Health Science Center at San Antonio has offered new hope for many alcoholics with his new and novel treatment". Johnson has been one of the most influential doctors and researchers in finding ways to end alcoholism and drug addiction.
Johnson has lived one of the most successful lives of any physician/researcher in contributing to society known to man. Not only do I intend on achieving in life the same way as Dr. Johnson, but I plan to surpass him as a doctor and as an individual. In high school, I will take many high end courses in science to ensure a background of the career that I will go into. I will do this by taking classes such as Biology, Anatomy & Physics, Chemistry, and AP Chemistry. By doing this and graduating with nothing less than a 3.8 GPA, I will set a higher standard, just like Johnson, in being accepted to a prestigious college. From college, I will earn an Undergraduate Degree, then a Medical degree, and end my schooling by attending a residency course for a physician. Whether it has been helping people get over drug abuse or helping patients in the field of a physician, Johnson has been an exceptionally influential doctor.
Page created on 1/4/2016 12:00:00 AM
Last edited 1/4/2016 12:00:00 AM