Blake Mycoskie
by
Libby from Marathon
Blake Mycoskie is a renaissance man because he is a hero. Renaissance is... the rebirth of the spirit to push the limits of literacy, art, science and technology. Blake grew up in Texas. He was born on August 26, 1976. He went to college on a tennis scholarship. Tennis was his passion, in his sophomore year he had a bad injury to his Achilles' tendon. He had to use crutches for months and he couldn't do any thing, even his laundry. He never liked doing laundry but now he had to but he couldn't. He started a door to door laundry business called Easy Laundry.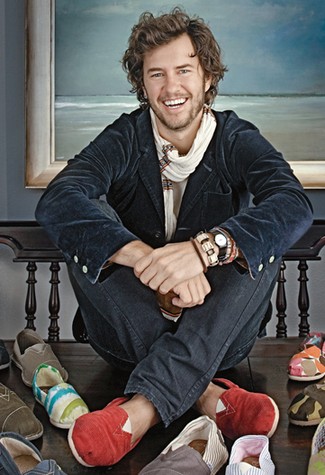 His next business was an outdoor advertising company that put ads on buildings instead of putting up billboards, it was called Mycoskie Media. He then he started a television network called Reality Central. It started in 2006, sadly they soon went out of business. After that he went and started a technology company that showed teenagers driving education. He said "We realized teenagers are online all day on Myspace or Yahoo or wherever they are doing, they hate sitting through eight hour classes."
Now because he created Toms he is a renaissance man. In 2006 he went on a vacation in Argentina, he saw kids with no shoes. When he got home he started Toms, Blake had never went to fashion school or made a pair of shoes in his life. Although he still made one of the best brands in the world. A year later he went back to Argentina and hand delivered 10,000 pairs of shoes. Blake has also written a book about Toms and how he started his business. Blake has and still is inspired so many teens " He is passionate about inspiring young people to make tomorrow better." Blake and Toms have given over 40,000 pairs of shoes to children without shoes, and who are in need.
Page created on 2/23/2013 12:00:00 AM
Last edited 2/23/2013 12:00:00 AM
The beliefs, viewpoints and opinions expressed in this hero submission on the website are those of the author and do not necessarily reflect the beliefs, viewpoints and opinions of The MY HERO Project and its staff.

Related Links