Barack Obama
by
Sequoia from Roxboro
Barrack Hussein Obama was born August 4, 1961 in Honolulu Hawaii. He was once called "Barry". He was enrolled in a school called Punahou Academy graduating with honor in 1979. He was only one of three black student students at the school. This is where Obama first became conscious of racism and what it meant to be an African- American. Obama described how he struggled to reconcile social perceptions of his multiracial heritage.
Getting letters regularly from his absent father Obama Sr., Barack attended Columbia University, but found New York's racial tension inescapable. He then attended Harvard Law, becoming a writer of the Harvard Law Review. This interests me because, despite the color of his skin and his dad not being there after his mom left his dad, he still worked very hard to become successful. He turned down a prestigious judicial clerkship, choosing instead to practice civil rights employment discrimination and working on voting - rights legislation.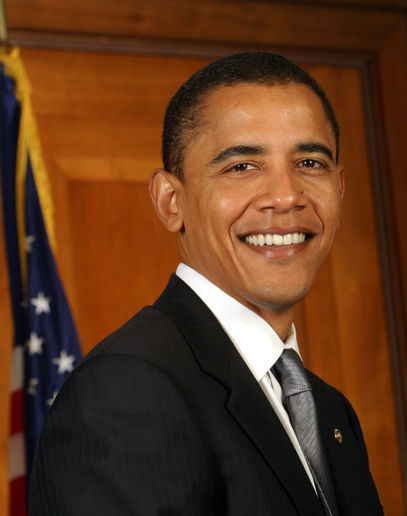 Graduating in 1983 with a degree in political science. After working at Business International Corporation and NYPIRG, Obama moved to Chicago starting a new job working as a community organizer. Chosen as one of "10 people would change the world" by New Statesman magazine Obama pushed forward. He then won his second Grammy Award for Best Spoken Word Album for "Audacity of Hope." In 2008 he won the Montana primary election, giving him enough delegates to become the first Black presumptive nomination for the office of President of the United States.
In 2004 Obama was elected to U.S Senate as a Democrat. In 2008 he ran for president as a democrat and he won. He was set to be the first African- American ever elected to that position. Barack Obama, our 44th President, is my hero.
I chose Barack Obama as my hero because he inspired me throughout his whole election. It didn't matter to me if he won or not, just running for President as a African-American and never giving up takes courage. I couldn't believe an African-American ran for president. Seeing Obama win did not only give me courage but it gave me strength to believe that i can do anything in this whole wide world. All I've got to do is set my mind to it and i really want to thank you Obama for helping realize the things i couldn't already see.
Page created on 10/16/2009 9:51:56 AM
Last edited 8/29/2018 5:22:37 PM
The beliefs, viewpoints and opinions expressed in this hero submission on the website are those of the author and do not necessarily reflect the beliefs, viewpoints and opinions of The MY HERO Project and its staff.