The Webster's Encyclopedic Unabridged Dictionary (1997) defines a hero as "a person who in the opinion of others, has heroic qualities or has performed a heroic act and is regarded as a model or ideal." When I think of heroes in my life, I always focus on individuals who are close to my heart. One person that I consider a hero in my life is my grandmother or mormor, Betty Rommetvedt Zagel. Betty is not only a hero to me, but also to countless people that she has encountered in her lifetime.
Betty was born on July 27th, in the early 1920's, in Twin Falls, ID. She grew up in a bilingual household where Norwegian was the native language. Her mother and father had moved from Norway to the United States in 1921. When she was four years old, Betty, her mother and her two sisters, returned to Norway for one year while her sister recovered from an illness. After they moved back to the U.S. she attended school and enjoyed many childhood pleasures: reading, roller skating, playing tennis, attending church functions, ice skating on frozen ponds in the winter and participating in school dramas. During the Depression years, though her family was lacking in wealth, they were rich in love.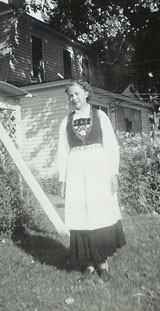 Betty graduated from high school in Twin Falls, ID. After high school she attended Business College for one year. In 1941, Betty became engaged to Robert Zagel, whom she met when she was 5 years old, and they married on August 30, 1942. Robert enlisted in the Navy and left to serve in WWII. Betty had their first child, Martha, soon after. They would add two more children to their family, Christine and Bruce. At age six, Christine had an operation to drain and remove a brain abscess. After the surgery, scar tissue developed in her brain causing seizures. Christine could no longer attend school after the 6th grade because of her spontaneous seizures. My grandmother stayed home and dedicated her daily routine to the care of Christine.
As Christie's seizures worsened, up to 100 a day, she was bedridden for seven years. During this time, my grandma would often feel overwhelmed, but trusted that the Lord would provide the strength for her to remain committed to Christine's care. Christie's condition improved, but her seizures persisted. Betty continued caring for her daughter until, at age 50, Christine died from cancer. As Betty provided for Christie, she also made time to give of herself in other areas including: volunteering at Eastco (an organization that helps people with disabilities), teaching ESL classes, running the church library, leading a Braille workers group and many other church positions. My grandmother still continues to give of her time today. She volunteers for Meals on Wheels, Caritas, quilters and the library at church and ministers to those in need of support. She resides in Spokane, Washington with her husband Robert.
My grandma is important to me because she has shown, through how she has lived her life, what it means to live for others. The fact that she spent 50 years putting her daughter's needs before her own exemplifies the character trait of caring. The ability to give of yourself without expecting anything in return is an amazing gift. I know my grandma would not take credit for what she has done, but give all the glory to God. Mormor (Norwegian for mother's mother) still uses her gifts to give to others. With her eyes, she sees a need and steps up to help. With her ears, she listens without judgment. With her hands, she creates beautiful crafts to bring joy. With her heart, she loves unconditionally. I hope that as I continue to grow in my life, I can become a more selfless and caring person like my grandmother. She is my hero.
Page created on 5/5/2008 12:00:00 AM
Last edited 1/5/2017 10:38:21 PM
Related Links
Eastco Diversified Services
- is a non-profit service provider that provides vocational, residential and other social services to developmentally challenged individuals and their families.
Lutheran Braille Workers
- provides individuals who are blind or visually impaired with Christian materials in Braille and large print formats.
Visit Norway.com
- supplies information about the country of Norway.