Balto
by
Brooke from Toronto, Canada
Balto is a famous sled dog. No one is sure what breed of dog he really was, he could have been a Siberian husky or an Alaskan malamute, either way he will always be seen as a hero. Balto was named after Samuel Balto, a Norwegian explorer. Balto lived from 1922 to the 14th of March 1933. Here are some of the other names and breeds of sled dogs on his team. Steele and Dixie were Malamutes; Star, Nikki, and Kaltag were all Huskies Sylvie was a Afghan and Doc was a Saint Bernard.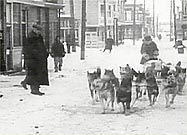 In January 1925, doctors realized there was a deadly diphtheria epidemic had started to sweep through Nome. The only serum that could the outbreak was in Anchorage, Alaska nearly a thousand miles away. The aircraft that was usually used to transport the medication had been dismantled for the winter, so they decided to transport it by dog sled. The serum was transported from Anchorage to Nenana by train where the first musher picked up the serum. The goal of this relay is to deliver the needed serum to Nome. More than 20 mushers took part, facing blizzards -53 below in temperatures and very strong winds. This was put onto news stations worldwide.
On February 2, 1925, a Norwegian Gunner Kaasen led his sled dog team with Balto in the lead. Balto lead the team into Nome. The most dangerous and longest part of the serum run was the part Leohard Seppala and his dog team covered lead by Togo. They came from Nome towards the end of the run and picked up the serum from another musher named Henry Ivanoff. The medication was later passed to Kaasen. Kaasen did not think Balto was much of a lead dog but Balto proved Kaasen wrong on the Iditarod Trail, saving his sled team from certain death in the Topkok River. Balto was even able to stay on the trail in whiteout conditions. Kaasen also admitted he could barely see his hand in front of his face.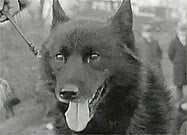 After the successful mission both Balto and Kaasen became celebrities worldwide. There is also a statue of Balto, sculpted by Fredrick Roth in New York City's Central Park and he sculpted it just 10 months after Balto's arrival in Nome. After Balto died in 1933 his body was preserved in Cleveland's Natural History Museum.
Balto is my hero because he saved many lives in Nome by going through dangerous cliffs, blizzards and huge storms and even if his own driver Kaasen did not believe he was a good leader he still kept going and then proved he was the best.
Page created on 4/8/2009 1:28:36 PM
Last edited 4/8/2009 1:28:36 PM
The beliefs, viewpoints and opinions expressed in this hero submission on the website are those of the author and do not necessarily reflect the beliefs, viewpoints and opinions of The MY HERO Project and its staff.