Frederick G. Banting
by
Anna from Calgary
Frederick Grant Banting was born on November 14th, 1891 in Alliston, Ontario, Canada. He was the youngest of 5 children. His parents were William Thompson Banting and Margaret Banting and they moved to Canada from Ireland. They were farmers. As a kid, Frederick was interested in politics and when he was about 18 or 19 he wanted to become a doctor. His parents must have worked very hard to support him to become a doctor because farming back then didn't pay very well. Frederick Banting went to University of Toronto and graduated in 1916. Frederick was a very hard working man, just like his parents.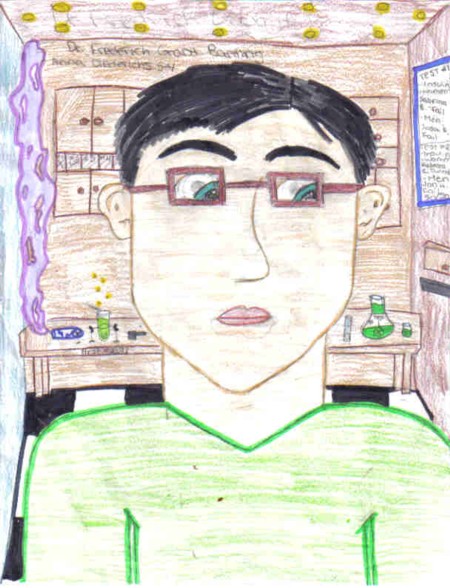 Frederick Banting joined the Canadian Army Medical Corps and served in the Battle of Cambrai and was awarded the Military Cross of Heroism under fire in 1919. For a short time Frederick was a medical practitioner in London, Ontario. He went on to work as a resident surgeon at the Hospital for Sick Children in Toronto in 1919-1920. In 1924 Banting married Marion Robertson and had one child in 1928, William Banting. Frederick Banting divorced Marion in 1932 and remarried Henrietta Ball in 1937. Frederick Banting was killed in an air disaster over Newfoundland on February 21, 1941.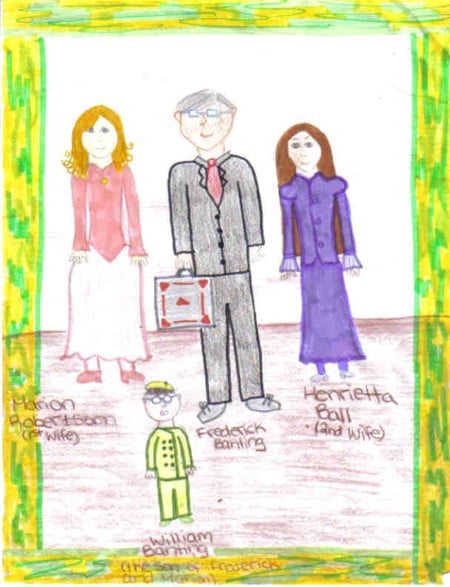 I think Frederick Grant Banting was and still is a hero to me because he was very intelligent and kind and was dedicated to his job. He was always there to lend a hand, he devoted his time to others and is a life saver. He was honest, was a true Canadian and was a friend to everyone! I admire him because he saved the lives of many including my Uncle Gary by finding a way to keep people with diabetes alive longer. Frederick Banting was more than just a well-known man; he was a life saver for many.
Frederick Banting achieved many things. He won many awards such as The Nobel Prize in Physiology or Medicine in 1923. He also received a Life Annuity of $7,500 from the Canadian Parliament. He was appointed a member of American Pharmacological Society in 1934. Many people and societies recognized him for his studies.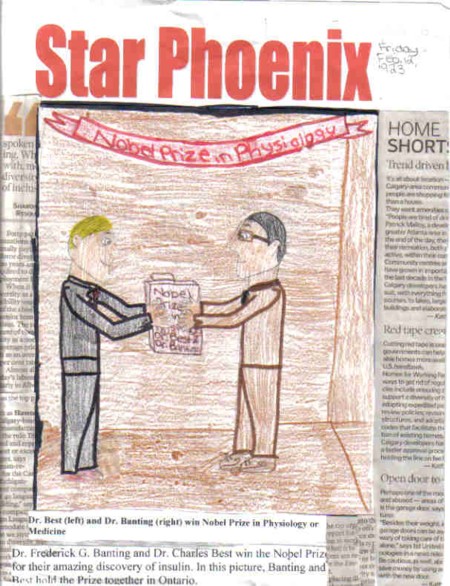 I think to be a hero it means to help people out when they need it and to be determined and willing to take risks. That is exactly what Frederick Banting did. I learned he was a man who got involved, he shared what he learned. When people questioned his work, he worked harder to prove that he could do what he was set out to do. For example, I read that he tried to treat diabetic dogs and people criticized him for that. So Frederick used what he learned about the dogs and came up with a treatment for people with diabetes called insulin. Insulin is a hormone in your pancreas. It regulates how you use the glucose in your body. If you have diabetes, your body doesn't have enough insulin so Banting found a way to reproduce and purify insulin so people with diabetes have enough insulin to even out how they use glucose and nutrients in their body. I learned from Dr. Banting's discovery that if you want to show people that you can be whatever you want to be, you have to keep trying when others doubt you and you have to work hard to get what you want.
If it wasn't for Dr. Banting my Uncle Gary and my Great Grandma would not have lived as long as they were able to using insulin. Frederick Banting was a brilliant man who changed the lives of many. Although he didn't find a cure for diabetes, he found a way to help people living with diabetes live longer!
Page created on 3/15/2007 12:00:00 AM
Last edited 3/15/2007 12:00:00 AM
The beliefs, viewpoints and opinions expressed in this hero submission on the website are those of the author and do not necessarily reflect the beliefs, viewpoints and opinions of The MY HERO Project and its staff.