"I have learned that there is a large educational community that wants to make a difference in the world and they are looking for ways to work together."
The class list sounds like an Olympic event. Turkey, Mexico, the United States, Belarus, Canada, Iran. Only this isn't a track meet. It's a LEARNING CIRCLE, a group of middle school classes from all over the world, connected by the Internet and committed to taking part in a simultaneous class project.
The number of classrooms participating in this type of international telecollaboration is growing, thanks in large part to my hero, Barry Kramer. For more than twenty years, he's been spreading the word about Learning Circles, about the scholastic and cultural benefits of learning, not just from a single teacher, but from whole groups of people, teachers and students alike.
So when we asked him "Who's your hero?" it's perhaps not surprising that his answer looks less like a single person and more like a roundtable. Six heroes. Six people who have helped shape the world of a man who is helping shape the world.
"I look to different people in my life for inspiration. My mother, Dorothy Kramer, taught me the importance of caring and the joy that can be found in serving others."
Barry's call to service came in, of all places, a corporate boardroom some 25 years ago. On the occasion of this particular meeting, Barry was informed that his department had made a profit of five "points" or five million dollars over the course of a busy weekend. In light of this accomplishment, which only added to the growing proof that he was destined for Big Things, Barry came to an unexpected realization: his career wasn't going the way he wanted. "I felt that I was losing touch with the real world and with people and I decided that I did not want my life to go in this direction."
As it turns out, the only "points" Barry was interested in were scored in a classroom; the only "growth" that mattered, that of the students inside. "I reminded myself that what I really enjoyed in life was teaching."
It wasn't long before Barry had resigned his position and enrolled at East Stroudsburg, Pennsylvania for his teaching certification. Two years after that, he was teaching a class of fourth graders in Quakertown, New Jersey. From the beginning, Barry was constantly on the lookout for new and better ways to expand his students' learning experience. It would be another of Barry's heroes, Margaret Riel, who would be instrumental in his pursuit.
"My good friend, Margaret Riel, the creator and founder of Learning Circles, has shown me how to embrace the academic side of my life."
Barry was roughly five years into his tenure when he observed the eighth graders at his school taking part in a brand new telecommunications project called Learning Circles. It was a collaborative learning experience they shared with students from other schools… from other countries. The Internet would not be invented for another five years, so Barry's idea to bring this "Middle School" project to his fourth graders wasn't just new, it was cutting edge.
That was twenty years ago. Since that time, Learning Circles has been a regular part of his students' curriculum. "Barry Kramer is one of the most talented educators that I have worked with," says Margaret Riel, creator of Learning Circles, "He understands deeply how important it is for students to create their own questions and be involved in the process of finding their answers." Creation and expression in the classroom is something Barry also feels strongly about. "(My students) absolutely love (Learning Circles) because the computer supports their learning and functions as a tool that allows them to express what they are thinking. The bottom line is that the technology empowers the students to be creators, not just consumers of knowledge."
What's more, the cultural exchange that takes place can have a profound effect on the way students see the world. Margaret Riel explains, "The diversity of perspectives in learning circles can help students understand that there are many ways to experience reality."
Barry agrees, "One of my favorite stories concerns a teacher in Poland that I participated with in an elementary Learning Circle back in the late 1990s. The teacher was doing the project by email. The school did not have any Internet access so the teacher arranged to take his class to a local bank to view their stories and pictures on the Internet. They couldn't believe that people from around the world could read their stories and see their pictures. This was an incredible experience for this teacher and his students."
In 2004, Barry became coordinator for Learning Circles and has worked in that capacity ever since. Barry's plans for Learning Circles go far beyond his fourth-grade classroom. "I look forward to the day when every teacher around the world will engage his/her students in a telecollaborative project every year."
Though the evolution of technology has been swift, changes in teaching practices don't always occur in leaps and bounds. Another of Barry's heroes, David McCormick, has helped him stay the course.
"My good friend and colleague, David McCormick, has taught me the power of technology and on a personal level has taught me how to persevere through daily personal pressures and challenges … He is truly a pioneer in the field of educational technology and an exceptional person on a human level."
When loss of sponsors threatened Learning Circles' survival, it was a partnership with the International Educators and Resources Network (iEARN) that kept the project going. Barry was one of just a handful of teachers to make the transition, a decision that would prove to be transformational. "My attendance at the iEARN conference in Beijing with my daughter, Liz, completely changed my life and career, and since that time, I have been a strong advocate of iEARN and telecollaborative project work." This type of schoolwork is all about computers in the classroom, giving students the tools to create documents, presentations and artwork and then using the Internet to share their ideas. "Technology is an incredibly powerful tool that allows us to communicate and create. In my opinion, that is what education is all about. I don't see children as empty vessels waiting to be filled, but rather as active beings in our world looking to communicate and create."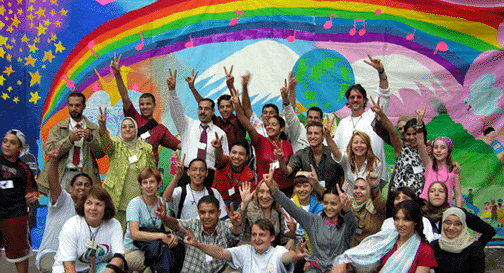 Wendy Jewell met Barry in Slovakia in 2004: "As a home-schooling parent, I was blown away by the possibilities of the Learning Circles… geography, IT, English comp, but most of all, the cultural exchange. Children are transported out of the classroom and into the world." Barry recalls their meeting, "Wendy came to me with an idea to establish a partnership between The MY HERO Project and Learning Circles… this partnership has been extremely successful." Students' "Hero" essays become part of the permanent MY HERO Archives and Learning Circles all over the world have a ready-made forum for the exchange of ideas. According to Barry, "The fact that other people will read what students create is incredibly motivating for students. It is my goal to use this model to establish more partnerships between other projects and Learning Circles."
Every year the number and impact of Learning Circles continues to grow. This vibrant community of students and educators extends beyond borders and gives life to a dream Barry has held for over 20 years. "Never before have teachers and students been so empowered and never before has the educational community had so great an opportunity. Imagine that one classroom of students has the potential to have a global impact." And where does a 4th grade teacher from Quakertown, New Jersey draw inspiration for such global aspirations?
"Another of my heroes is my fiancé, Liping Zhang, who has shown me that we are all part of a global community and that we can all be world citizens."
And Barry's taken her lesson to heart, by reaching out into the global educational community. "I like to think that Learning Circles show the world a model of how the world could be. It is all about students and teachers from different countries and cultures working together to share our ideas, dreams, desires, and hopes for a better world."
And sometimes those hopes meet with actual results. "Some of the most amazing experiences have come from seeing teachers who started Learning Circles as their first technology or iEARN experience and then seeing those teachers progress to become leaders. In some cases a good number of teachers have become directors and even influential leaders in Ministries of Education of their countries."
"But maybe most importantly, at the current time, (my hero is) my daughter, Liz Kramer. She has taught me to trust and believe in the current generation, to be optimistic about the future and to know that the world is in good hands."
Maybe we've all got reason to be optimistic. Learning Circles and other telecollaborative projects continue to grow in number and popularity. As they do, we see students, classrooms and communities increasingly reaching out to each other, across borders and cultures. And what we end up with is the kind of education that promotes creativity, empathy and tolerance.
Of course, to reach his ultimate goal, Barry's got a lot of work left to do. But don't think this fan of stage and screen, this piano-playing golfer, this lover of laughter and world travel is going to miss out on enjoying life. Stewart Kramer made sure of that.
"The most important person during my childhood… was my grandfather. He taught me that there were many things to enjoy and experience in the world."
And isn't that what Barry's been saying all these years - what Learning Circles are all about? The world holds many lessons for those with a willingness to explore. And thanks to my hero, Barry Kramer, those with perhaps the greatest willingness of all, students, have more access to the wonder and the power of education than ever before.
Update
It's been just about a year since MY HERO spoke with Barry Kramer, a year filled with challenges and marked by achievements. On May 21st, 2009, just about the time his daughter Liz, graduated from George Washington with a degree in Foreign Affairs, Barry received his Doctorate degree in Learning Science and Technology from Lehigh University. This was no mean feat, as Barry was simultaneously teaching his class of elementary schoolers. "My family's very supportive," replied Barry when asked just how he managed to get everything done. He also gives credit to a class of gradeschoolers he describes as "intense over-achievers."
Perhaps not surprisingly, Barry's doctoral thesis was an in-depth study of something near and dear to his heart, THE LEARNING CIRCLES. These are groups of classes from anywhere in the world, connected by the internet and committed to taking part in a simultaneous class project. Though Barry's participation with iEARN's Learning Circles spans back a number of years, this was the first time he'd investigated an entire Learning Circle session. After in-depth surveys and intensive case studies were performed, the results seemed to confirm Barry's belief in the project. "Even though the research brought up a long list of challenges and ideas for improvement, EVERY teacher to the very last one, said they'd sign up for the next circle. 100%."
Though approval ratings like this support his belief that it's just a matter of time before the Learning Circles are a part of every forward-thinking learning institution, don't expect Barry to rest on these laurels. Embellishing the Learning Circles with tele-collaborative final presentations, exemplified by this year's popular eLLUMINATE sessions, is one way Barry hopes to improve the experience. He's also looking for new ways for students to interact directly, for an even more enriching group learning experience. These are just a couple of the ways Barry plans to improve this incredibly rewarding learning experience. For most of us, goals of this nature, goals like improving the learning environment for countless students all over the world, or expanding their opportunities for enriched cultural exchange are the results of a lifetime's labor. For my friend and hero, the newly minted Dr. Barry Kramer, it's all in a year's work. - dk