Bear
by
Gilbert from Riverview
My hero, Bear, is a Shiloh German Shepard who had grown up as a shelter dog in Texas, Parker County, in the Weatherford Shelter. Bear had been kept at the back because no one had wanted him and, he had a lot of patience to sit in the back waiting for the right person to come for him. When Debbie Zeisler and Bear met eyes they both knew what was going to happen next. Debbie was going to adopt Bear for her mom but Bear started to show signs that something was wrong. Debbie has seizures every now and then because of a horse riding accident eighteen years ago. Here's just one of many examples. On Saturday May 28th, Bear tried to stop Debbie from going outside, however she managed to brush past him and get to her porch but she had a seizure and fell down the stairs. Bear had to fetch her medication and ran around scratching at every door in his neighborhood to attract attention but no one came to the door. An animal control officer had seen Bear and followed him to Debbie who was laying on the ground confused and dazed, the animal control officer helped Debbie and restored her to a normal function.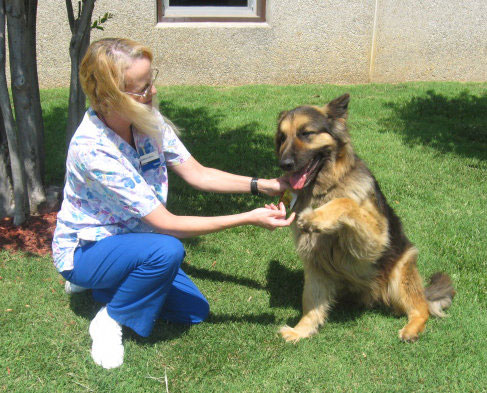 Bear's early life was spent in the Texas, Parker, Weatherford shelter. He was kept in the back and was not wanted, until Debbie had adopted him, and they stayed together from then on with an honourable and noble companionship that will not be broken apart under any circumstance. Bears "Major Life Events" are developing skills to smell low blood pressure and to signal a warning by leaning on Debbie's legs telling her to sit down before she has a seizure, and if she does not listen and has a seizure Bear fetches her medication for her.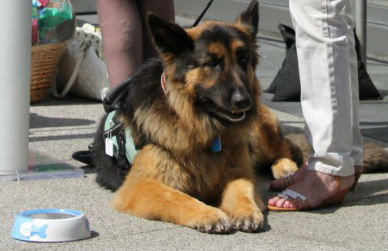 Bear's career is to be Debbie's personnel seizure detector. Just as it was stated earlier, Bear developed many helpful skills on his own to help Debbie to safety, And what was so honorable about it is that he does this for her because he loves, cares, and values her as a loved one making sure she is safe. A very significant hardship Bear had to overcome was being scared, but the fear, is still with him when he tries to help Debbie. That is the reason why he does the kinds of things for Debbie, because he fears the worst that could happen and won't let it happen because he loves her.
In the end, Bear got to have a home and do a lot for his owner just by helping her every day. Bear had received a years worth of dog food for free from Natural Balance, and he got the national hero award, so it just goes to show that someone can be a hero just by doing something to help someone else or just doing the little things that people can be grateful for.
That is why Bear is a hero.
Page created on 6/8/2016 12:00:00 AM
Last edited 6/8/2016 12:00:00 AM
The beliefs, viewpoints and opinions expressed in this hero submission on the website are those of the author and do not necessarily reflect the beliefs, viewpoints and opinions of The MY HERO Project and its staff.