Berta Hummel
by
Belinda from Spokane
As I walk causally through the convent, I looked around and tried to place myself in the shoes of Berta Hummel. Being an artist myself, I wanted to know what made her work so special and so dearly loved. Whose heart was represented on all the little postcards, books and sketchpads? The simplicity of children in meadows and wooded forests laughing, playing and enjoying the beauty around them were a common theme. Other themes included more sacred pictures which reflect a sincerity of faith and conviction.
Born in Massing, Germany on May 21, 1909, Berta Hummel knew little of the incredible journey life would bring her. She grew up in a wealthy, loving home with many brothers and sisters. Starting in the first grade, she excelled at school and more importantly at drawing. Later, at the age of twelve, she was enrolled at a boarding school where she continued to follow her calling to be an artist. At that point, the world became an open door for her to accomplish anything, "She might have looked for a position as designer in commercial art or lived as a free-lance painter in Munich, Florence or Venice. Instead, she entered a convent."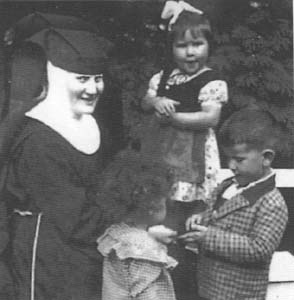 In 1930, she was accepted into the convent at Siessen. Because of her religious convictions, she took her final vows changing her name to Sister Maria Innocentia Hummel, in 1937, pledging to live forever in poverty chastity and obedience. She was selling many of her famous drawing as postcards to earn money for the convent and people in need. She also taught classes for elementary school children. During this time Adolph Hitler came into power and with it the Nazi regime. As many as 700 priests were arrested and most of their educational facilities closed. Unimaginable hatred began emerging and with it the drive to make the church extinct.
Hummel did not falter. Not even when she was forced to move from her beloved convent and striped of all her abilities to sell her artwork. The Nazis accused her of disparaging the nation's youth. The convent itself was made available for 1,200 ethic Germans from Romania. In spite of all this, Hummel worked tirelessly to continue to sell her pictures overseas. She said "Let freedom come soon - even if we have to begin all over again at the beginning."
Sadly, Hummel struggled with ill health, which was drastically compounded by the atrocities of World War II which she witnessed. She was diagnosed with tuberculosis and transferred to Wangen. Here, she worked on pictures which she entitled "Last Gifts." Despite efforts to transfer her to Switzerland for better medical treatment, she quietly passed away on November 6, 1946, with loved ones at her side.
Her heart is still very much alive when viewing her beautiful pictures of small children and religious themes. Today, more than a million Hummel figurines and art work are in print around the globe bringing with it joy, beauty and a touch of her heart.
M.J. Hummel The Hummel Her Life and Work. 1994. Germany, arsEdition
Page created on 7/21/2007 12:00:00 AM
Last edited 4/22/2019 11:31:29 PM
The beliefs, viewpoints and opinions expressed in this hero submission on the website are those of the author and do not necessarily reflect the beliefs, viewpoints and opinions of The MY HERO Project and its staff.