My Hero Documentary Nominated For Humanitarian Award
CONTACT: Wendy Milette FOR IMMEDIATE RELEASE
MY HERO DOCUMENTARY NOMINATED FOR HUMANITARIAN AWARD IN BEST SHORTS COMPETITION
LAGUNA BEACH, CA 02/06/17 - The MY HERO Project is proud to announce that the MY HERO documentary Eva Haller: A Work in Progress has been nominated as a finalist for the Humanitarian Award in the 2016 Best Shorts Competition. The competition, based in La Jolla, California, awards a Grand Prize Humanitarian Award each year to a filmmaker whose work creates a positive difference in the world by using exceptional filmmaking techniques to call attention to a current critical need.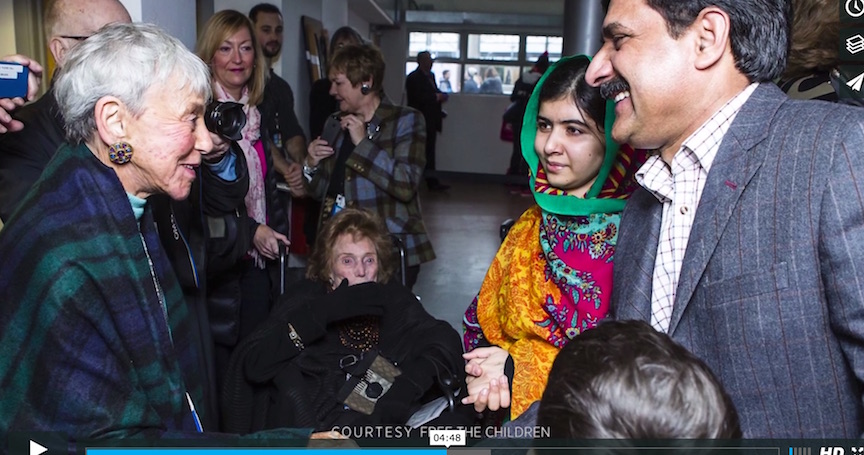 Eva Haller: A Work in Progress is a documentary by MY HERO Co-founder and Director Jeanne Meyers, that tells the story of Eva Haller, an 87-year-old Holocaust survivor who uses her talents and communications skills to nurture and support leaders of non-profit organizations around the world. At age 12, Haller escaped from a Nazi concentration camp by convincing a young soldier that she was too young and beautiful to die. When her beloved older brother was killed in the camp, she vowed to honor him by living her life with a sense of purpose. The films shows the broad and deep reach of her efforts.
"So grateful to Best Shorts for honoring our hero, Eva Haller, as a finalist for the Humanitarian Award," said Meyers. "Eva is a powerful force for good in the world. We are thrilled that this film can help bring more recognition to her work and life. She is truly an inspiration to all who know and love her."
The Humanitarian Award honors filmmakers whose work brings awareness to issues of Ecological, Political, Social Justice, Health and Wellness, Animals, Wildlife, Conservation, Global and Spiritual importance." Winners are promoted on the Best Shorts and Global Film Awards websites, as well as on social media.
CLICK HERE to watch Eva Haller: A Work in Progress.
For more information about MY HERO, visit the award-winning website myhero.com.
Page created on 2/11/2017 2:27:24 AM
Last edited 7/7/2017 11:35:13 PM