Brenda & Calvin
by
Robin from Hendersonville
This page is a tribute to a very special person. She is an inspiration to me and has become a very good friend of mine in the past several months. God sent me an angel to help me in my quest to help save neglected and abused horses in Henderson county. He couldn't have lead me to a better person.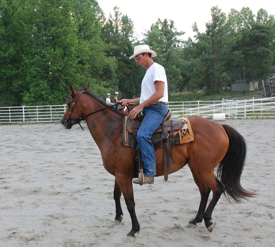 I am an Animal Services Officer in Henderson County. One day several months back, I received a complaint about dogs coming under a neighbors fence and scaring someone. I went out to speak to the owner of the dogs and that's when I met Brenda. Unfortunately, a tree had fallen on her fence and her rescue dogs (all harmless) were going under to visit the neighbor's dogs. The problem was fixed. Brenda and I continued to talk and the rest is history. In the past few months, Brenda has helped me with many horses. We have taken three to her farm from neglectful homes and one very thin horse that was found walking down the middle of the road at 1:00am in the morning. They are getting ready to go and pick up another one thats owner has passed away and his wishes were to have his friend placed in a nice, loving home. He will have all he ever needs at Brenda's farm.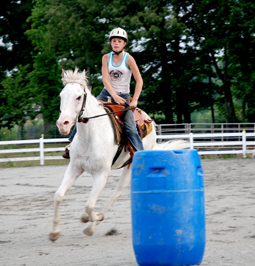 Until Brenda came along, Henderson County had no place to take these animals and they were forced to stay in bad situations. Thanks to her, and Calvin, we now have a wonderful place for them, with two wonderful people to make sure that they are taken care of properly. Brenda is now in the process of getting a 501c3 so that she can continue this work with the county.
I can't say thank you enough to Brenda, Calvin, and Brenda's children, who have also helped a lot with these horses. You guys mean the world to me and I just want you all to know how much you mean to me and how much I appreciate all that you do.
Page created on 6/21/2007 12:00:00 AM
Last edited 6/21/2007 12:00:00 AM
The beliefs, viewpoints and opinions expressed in this hero submission on the website are those of the author and do not necessarily reflect the beliefs, viewpoints and opinions of The MY HERO Project and its staff.