Having been Singapore Airline professionals for some time, both Budi and his wife, Peggy, had seen a great many famous landmarks and foreign cultures. They were due for a vacation and this time, they decided, it would be special, so they went to one of the few places in the world neither of them had been to: the East Timor refugee camp.
Not unlike a lot of families, the Soehardis, Budi and Peggy, were watching TV during dinner in 1999. Little did they know that what they would see was about to change their lives forever. The show focused on the plight of refugees fleeing the violence raging throughout East Timor after residents voted for independence from Indonesia; families were living in the most squalid of conditions… homes made of garbage, no sanitation whatsoever, women and children suffering from disease and malnutrition. "God wanted us to see (the show). It was both my wife and I who were inspired to make the trip."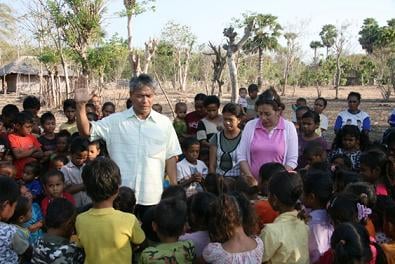 Budi began gathering donations of every sort - money, food, clothing and supplies - and set out through a maze of armed conflict to deliver more than 40 tons of food, medicine and toiletries to East Timor refugee camps. But this kind of help is something Budi refers to as "a hit and run case," a temporary fix to a lasting problem. The Soehardis decided to help in a more meaningful way. "We decided to rent a house," says Budi, "and provide some proper comfort to some of the children." They started with four of the worst cases, children whose physical health was in severe decline due to malnutrition and diseases that manifested in open sores on their bodies. As more and more children came to the Soehardis for help, they decided to take it a step further and erect their own building… The Roslin Orphanage. "My wife was initially asking me to build three rooms. Then two hours later, she asked for five rooms, and then later, nine rooms and finally, the orphanage building."
Now Budi and Peggy look after 47 children at the orphanage, treating each as their own child and seeing to his or her needs, from medical to educational to spiritual. Perhaps the most important thing the Soehardis give them is a sense of community. All of the children pitch in, whether it's cleaning or tending the rice paddy that supplies much of their food needs. All of them come from desperate circumstances, whether orphaned or abandoned. As such, life at the Roslin Orphanage represents a clear step up from a life of hardship, but life at the orphanage is anything but easy.
"Our days start at 4:30 am for the older ones. Some will be doing the washing, some will be helping with the breakfast preparation and some will be preparing for the school uniform." Breakfast is at 6 and the entire orphanage eats together, each of them receiving a minimum of one egg and one glass of milk.
School is handled in two shifts, the Soehardi's pick-up serving as the school bus.
Lunch is served from 12:30 to 1:00, followed by resting due to the mid-day heat. Budi describes the rest of their day as a mixture of work and play and song. "Our children are naturally gifted with their singing ability and it is so nice to see them doing things while singing. Doing things with such a joyful attitude is very nice."
Sundays mean sleeping in, which to the Soehardis means casually rolling out of bed at 5:30. Then there's church to attend, followed by picnics on the beach.
As much as they accomplish, there's always more when you're providing for 49, and one of Budi's recurring worries is that he won't be able to keep up with the children's education. Still, they seem to find a way. A living example of this is Gerson Mangi, one of the oldest of the Roslin residents at 20. Budi explains, "Gerson was 4 years old when both of his parents died," leaving him an orphan without the means to attend school. Thanks to Budi and Peggy and an outside sponsor, he is now attending medical school.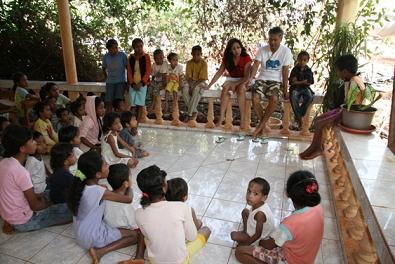 Though the Roslin Orphanage depends on outside help from a network of patrons, most notably from the Fellowship of Christian Airlines Personnel, of all the help they've gotten, perhaps the biggest help, has come from within. "Our own children have been our biggest supporters. They refused to go somewhere else (when they could have), but they choose to help us at the orphanage." Still, help is needed to insure the education and health care for all. What's more, Budi is hoping for financial help to open a banana farm with the aim of becoming self-sufficient as well as creating jobs for others.
When Budi was asked, "Who's your hero?" he was quick to answer, "God has been our hero as He is always giving us the required things… always. At the orphanage, my wife is my hero. She has been dedicating her entire capabilities just for the orphanage and its needs."
And what does a couple, currently in the process of raising 47 children, want to say to the world? "Respect others," Budi says, "Be who you are, explore this world, enrich your knowledge. Be kind and tolerant. Share your love and care with others… and do not procrastinate!"
With a message like that to share, the care and education of 47 children is in good hands.
Page created on 7/31/2014 7:07:08 PM
Last edited 8/15/2018 9:33:50 PM
Related Links
Roslin Orphanage
- Roslin Vision: This site is dedicated to the beautiful children of East & West Timor who have suffered so much in recent years due to war, displacement and socio-economic hardship. It is our quest to provide a loving environment to orphaned children so they may have the opportunity to blossom and give their laughter and talents to the world. It is also our Endeavour to assist in developing the local infrastructure, which has struggled to carry the weight of integrating the influx of displaced persons, to bring the dream of creating a prosperous community, where everyone has access to basic health and education, a little closer.
Fellowship of Christian Airlines Personnel
- Established 1971, FCAP is a fellowship among Christians in the airline industry worldwide that share a common commitment and focus. We desire to display our relationship with the Lord in the details of our work in order to bring a unique influence to the people around us at work. Through local groups, prayer networks, training seminars, special events, and conferences, we connect to encourage and support one another in this commitment.
CNN Heroes
- Everyday heroes changing the world... including Budi Soehardi and the Roslin Orphanage.
Extra Info
Budi Soehardi and the Roslin Orphanage are up for the CNN Hero of the Year Award.
The financial reward that comes with winning would greatly help keep the orphanage going and help to expand their vision of sustainability and education for all their kids. Check out their website
(roslinorphanage.org)
to see how you can help.